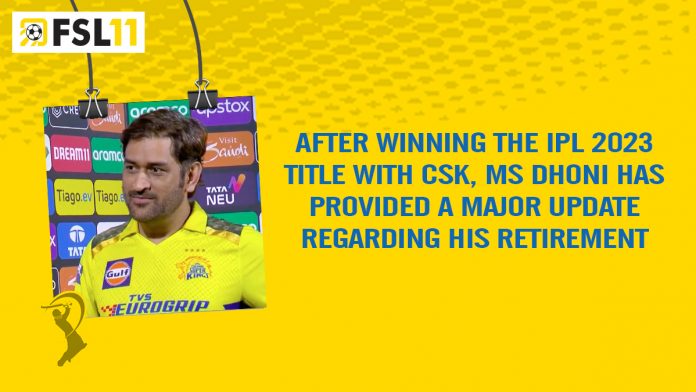 MS Dhoni delivered a significant update regarding his potential retirement following Chennai Super Kings' triumphant victory, securing their fifth Indian Premier League (IPL) title by defeating Gujarat Titans by five wickets (DLS) at Ahmedabad's Narendra Modi Stadium on Tuesday. The CSK captain, who equaled Rohit Sharma's record for the most IPL titles as a captain, expressed that it would be easy for him to announce his retirement but instead, he intends to dedicate the next nine months to training and strive to play in the next season as a "gift" for his fans.
"Are you seeking an answer? Considering the circumstances, this could be the ideal moment for me to announce my retirement. However, the immense love and affection I have received throughout this year, wherever I have been, makes it challenging for me to simply say 'Thank you very much.' It would be tougher for me to work diligently for the next nine months, aiming to return and participate in at least one more IPL season. However, it all depends on my physical condition. It would take approximately 6-7 months to make a decision. This would be more like a gesture from my side. It is not an easy decision, but I feel compelled to do it due to the overwhelming love and affection shown by the fans," he expressed during the post-match presentation.
"I was overcome with emotions; my eyes welled up, and I needed some time to compose myself in the dugout. I realized that I should savor this moment and enjoy it. I believe the fans love me for who I am, appreciating my down-to-earth nature, without attempting to portray someone I am not. I keep it simple. Every trophy holds its own significance, but what makes the IPL special is the requirement to be prepared for every crucial match," he added reflectively.