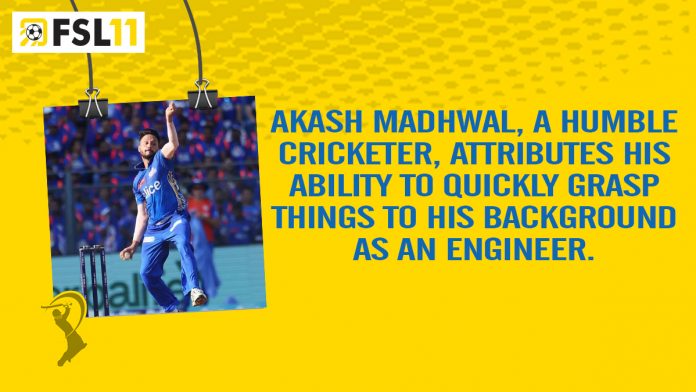 Akash Madhwal, a humble cricketer, attributes his ability to quickly grasp things to his background as an engineer. Despite not playing competitive leather ball cricket until the age of 23 due to his focus on obtaining his BE degree, Madhwal's passion for the sport led him to play tennis ball cricket. It wasn't until Uttarakhand gained BCCI affiliation when he turned 24 that he entered the realm of competitive cricket.
When asked about his journey, Madhwal responded, "I was simply practicing and waiting for this opportunity. I completed my engineering and pursued tennis-ball cricket because of my passion for the game. Engineers tend to have a knack for fast learning," he said modestly.
In the previous league game, he brilliantly bowled Glenn Phillips and Heinrich Klaasen with yorkers, and on Wednesday, he delivered an unplayable ball to Nicholas Pooran.
"I focus on practice, and that's what we execute. I'm proud of my performance, but I strive to improve," Madhwal expressed. Although he has been filling in for Jasprit Bumrah throughout the season, he felt a sense of humility when asked about stepping into the shoes of India's pace spearhead.
"Bumrah bhai has his own unique place, and I'm simply trying to fulfill my role. Nicholas Pooran's wicket was the most satisfying. My family believes in my hard work, and that means a lot to me."