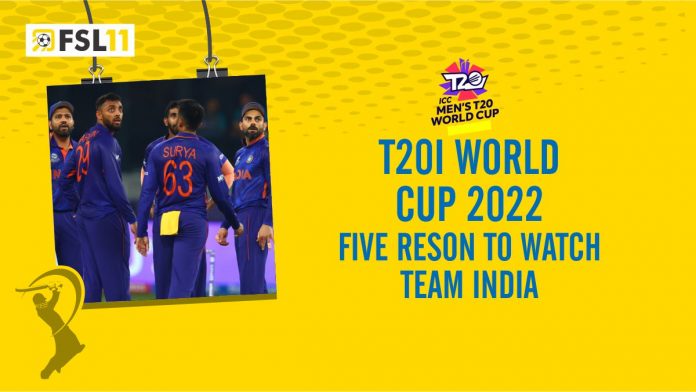 The most important fact about India in terms of the T20 World Cup 2022 is this time, India felt lucky about their teams' ability to create a good spot in the T20 World Cup 2022. People are very excited and are hoping that they can create a good spot in this tournament.
Let's analyse some points by which Indian fans will go ahead and watch such a tournament: –
Opening Batting of Rohit Sharma and Virat Kohli The comeback of Virat Kohli in the T20 Asia Cup has given huge hope to the Indian fans, who are actually expecting that India will reach high heights in the T20 World Cup 2022. After seeing Virat's recent performance, most former Indian cricketers want to see ex-captain Virat Kohli, along with current team captain Rohit Sharma, perform as opening batters in the T20 World Cup.
Brilliant captaincy of Rohit Sharma: People never lost faith in cricketers like Rohit Sharma and Virat Kohli, who have failed in the past and have taken a long time to recover. After Virat Kohli left his captaincy position, Rohit Sharma has handled his country's team and maintained the reputation of his country while leading India in international tournaments.
He had a bad year in IPL 2022, but after that he led India by himself in most of the tournaments and recorded victories too. And this time also he will maintain his team responsibility. That would be great and to see where he will take India in the T20 World Cup is the most important thing for fans to watch the tournament, which will be held in October 2022.
India's Three Middle order Players: The countrymen have mentioned such middle order batsman in their game, so their finisher will not be overworked. The important part of the game is that during the middle of the game, any batter who went in the game has got a lot of time to think to hit shots, but they have the limitation of overs and this is the most risky part where fans will see Suryakumar Yadav along with Hardik Pandya in the game.
All-rounder importance All-rounders are just as important as the opener and finisher in the game.And India has the champion of IPL 2022, Hardik Pandya, who changed the cricket game on his own. He is the real game changer, who also creates strategy, similar to MS Dhoni. And after Hardik Pandya's statement of winning the T20 World Cup, fans are overly excited to watch this tournament till the end.
Requirement of speedy bowlers the bowlers are the great helpers to win the game as soon as possible. And the tricks of Jasprit Bumrah, Mohammad Shami, and Yuzvendra Chahal are not understandable for the opposing teams who will be taking part in the T20 World Cup 2022.