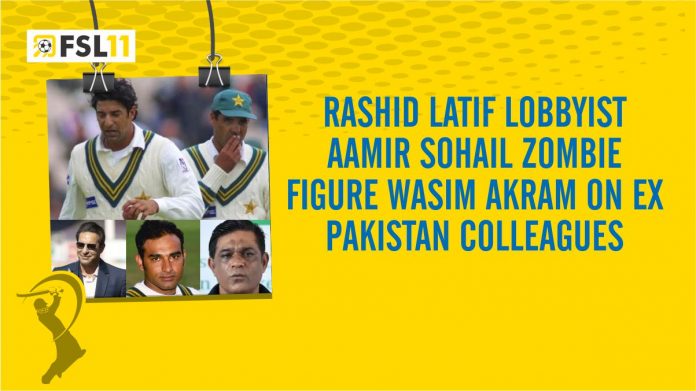 Wasim Akram's self-portrayal 'King: A Journal' is one book which is brimming with dubious explanations in regards to the Pakistan cricket crew during the speed legend's playing days. Prior reports uncovered that in the book, Akram scrutinized previous chief Saleem Malik saying: "He was negative, narrow minded and dealt with me like a worker. He requested I rub him, he requested me to clean his garments and boots."
Presently, Wasim Akram has censured another previous Pakistan captain Rashid Latif. "The lobbyists were working. In July 2000, Rashid Latif gave a meeting to The Sunday Transmit in which he professed to have been offered £15,000 to guarantee Pakistan were bowled out for under 300 in the 1996 Master's Test. Also, who can say for sure? Perhaps he had. However, had he told me, his skipper, at that point? No. Had he detailed it to his mentor or supervisor? No. Had he told Qayyum? No. Incredibly, these accounts possibly at any point came out when he needed consideration," read a passage from Akram's collection of memoirs, according to a report by Cricket Pakistan.
Akram has likewise called previous colleague Aamir Sohail a 'Zombie figure'. The clatter for change was fulfilled by another mentor, Wasim Raja, and new selectors: Wasim's sibling Ramiz, Naushad Ali and Abdur Raquib. They reviewed, after his vigorous campaigning, the zombie figure of Aamir Sohail," one more extract of the read.
He didn't extra his long-lasting speed bowling accomplice Waqar Younis as well. He was made commander in view of Tauqir, and Tauqir was a disturbance. Shoaib, for instance, brought it into his head to contact Tauqir straightforwardly with a solicitation that he be joined by his own PCP, Tauseef Razzaq," a portion expressed.