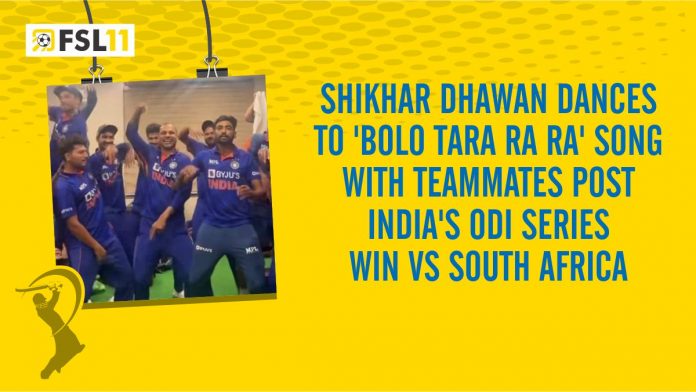 India's captain Shikhar Dhawan had a great time with colleagues after their 2-1 ODI series prevail upon South Africa on Tuesday. The Indian side crushed the Proteas by 7 wickets in the third and concluding ODI match at Delhi's Arun Jaitley Arena to pack the series. From drawing out his brand name thigh festivity subsequent to getting the champ's prize to hitting the dance floor with partners to love the occasion, India's substitute captain for the series, Shikhar Dhawan found it truly difficult to control his bliss. So was the situation of his colleagues.
After the match was finished, Dhawan shared a reel on Instagram in which he should have been visible dancing on "Bolo ta ra" song with his cricket team and says "Jeet ke bolo Tara ra," Dhawan inscribed the post.
Discussing the game, Dhawan won the throw in the third ODI and chosen to bowl first. The Indian bowlers demonstrated his choice right by bowling out South Africa for 99 runs. Kuldeep Yadav sparkled with a four-wicket pull while Washington Sundar, Mohammed Siraj and Shahbaz Ahmed guaranteed two wickets each.
Then again, South Africa had a troubling excursion as seven of their hitters were excused for single-digit scores. Their bowling excessively looked incapable and India easily dominated the match.