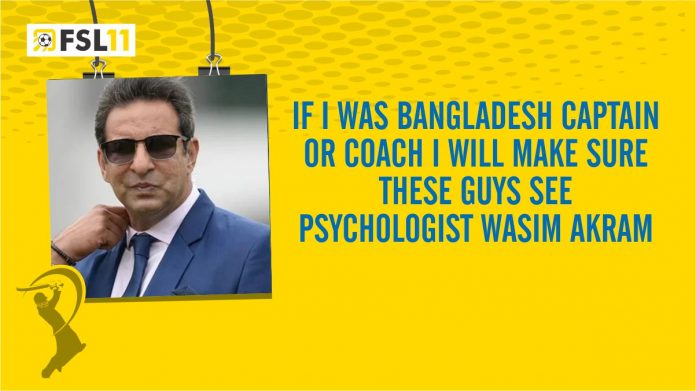 Previous Pakistan chief Wasim Akram has cracked down on Bangladesh hitters, scrutinizing their methodology in a must-win T20 World Cup match against Pakistan. The game among Bangladesh and Pakistan was a must-win challenge for the two sides, with a semi-last put on the line. Be that as it may, unfortunate batting saw Bangladesh posting only 127/8, and this target was pursued down easily by Pakistan as they dominated the game with five wickets close by and 11 balls in excess.
Akram has now said that assuming he was the chief or mentor of Bangladesh, he would make them see psychologist's. The previous Pakistan commander likewise reprimanded the batting approach of Najmul Hasan Shanto who discarded his wicket in the wake of arriving at 50.
"Bangladesh need to fault themselves. They ought to. In the event that I was a skipper of Bangladesh group or the mentor of Bangladesh group, I will ensure these folks will see clinicians. Since at one phase, Shanto was on 54 and things were going great then," Akram told A Games' show 'The Structure'.
They scored 73 for 2, where I thought they'd reach up to 160. However at that point Shanto ventured out and played a bizarre shot off Iftikhar and was bowled. Assuming that you had continued to take singles, the score would have reached 155 easily," he added.
Further discussing Bangladesh, Akram said: "In a global level, when you see a specific bowler was coming to bowl and you realize that the resistance chief has carried him to take wickets, that is where you don't play a shot. You attempt to turn the strike in that specific over yet the Bangladesh players made up their psyches to just hit him and hit Shaheen."
Pakistan will presently take on New Zealand in the first semi-last on Wednesday while India will confront Britain in the second semi-last.