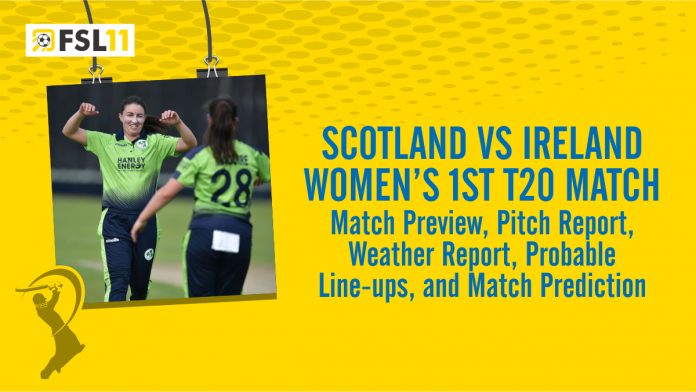 Match Preview:
Cricket fans have been waiting for the start of this tournament, which will take place on Monday, at 5:30 p.m., between Scotland and Ireland Women's. The very first T20 match of the Ireland Women's tour of Scotland will be on September 5th, 2022, at a location called Grange Cricket Club Ground, Raeburn Place, Edinburgh.
Match Prediction:
The prediction of the match can be known by taking an overview of past records, and people have seen that in the 2021 matches, Scotland has created a great spot by winning two games with a score of 11 runs and 5 wickets after defeating their opponent team, Ireland Women's. whereas Ireland Women's have also won three T20 matches in the past, by 61 runs, 41 runs, and six wickets.
Conclusion:
Based on past records, people have decided to support the Ireland Women's team as they think that this team will win in the 1st T20 match on September 5th, 2022, at 5:30pm against the Scotland Women's team. Well, Scotland Women will also make sure to create an unbeaten knock of scores against the Ireland Women's team on Monday.
Scotland Women Squad Kathryn Bryce (c), Sarah Bryce, Abbi Aitken Drummond, Priyanaz Chatterji, Katherine Fraser, Saskia Horley, Lorna Jack, Ailsa Lister, Abtaha Maqsood, Megan McColl, Olivia Bell, Katie McGill, Hannah Rainey, Rachel Slater, Ellen Watson.
Ireland Women Squad Laura Delany (c), Georgina Dempsey, Amy Hunter, Shauna Kavanagh, Arlene Kelly, Gaby Lewis, Sophie MacMahon, Jane Maguire, Cara Murray, Leah Paul, Orla Prendergast, Eimear Richardson, Rebecca Stokell, Mary Waldron