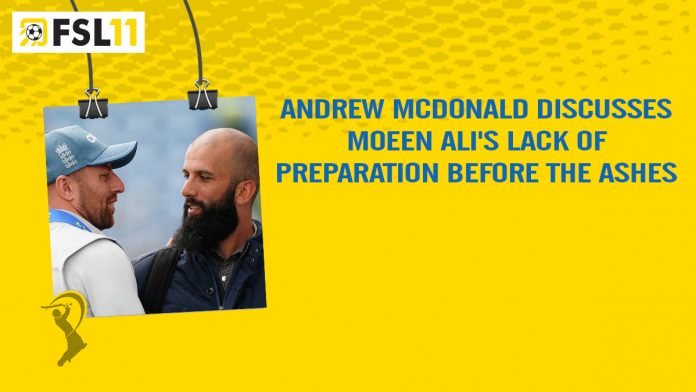 With the highly anticipated Ashes series just around the corner, both England and Australia are focused on maintainin g their topform as they prepare to face each other in the prestigious series starting on June 16.
Unfortunately for England, their key spinner Jack Leach will be absent due to a recent lower-back fracture. To fill this void, the team led by Ben Stokes has made a surprising move by bringing veteran all-rounder Moeen Ali out of retirement as Leach's replacement. Ali will initially be part of England's squad for the first two Tests of the Ashes series, stepping in as a last-minute injury replacement.
However, Australia's coach Andrew McDonald believes that Ali's inclusion in the Test squad could pose an additional challenge for skipper Stokes. Due to his limited practice in red-ball cricket, Ali might require some time to adjust and find his rhythm within the squad during the series.
"There's definitely a challenge there, isn't there? Mo hasn't played a red-ball game for a long time. I have no doubt that he will be prepared; he's had a couple of weeks' notice," expressed Andrew McDonald during a press conference after Australia's victory in the WCT final, as reported by ESPNcricinfo.
"However, Jack Leach was a valuable addition to the bowling attack with his ability to take wickets, and Ben Stokes utilized him more aggressively, which yielded excellent results," he added.