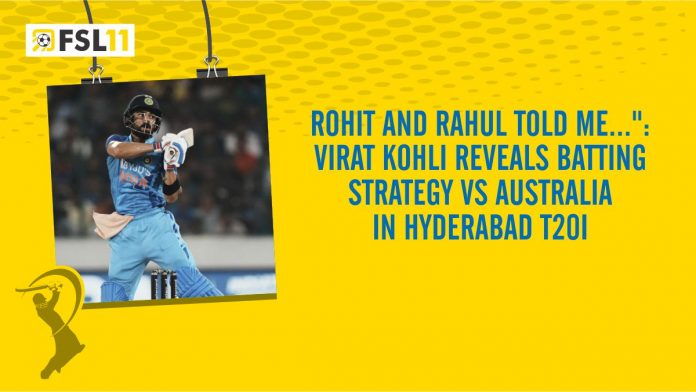 King Kohli contributed 63 runs to the Indian team's score of 187 against Australia in the third T20 match, which was held on September 25th, 2022.The incredible score of Virat Kohli made in just 48 balls surpassed the teams' scores and levelled up within a few overs only.
This time, fans saw great partnership coordination between Virat Kohli and Suryakumar Yadav, and the audience expected those batters to win again against Australia at the Rajiv Gandhi International Stadium in Hyderabad. The mission of captain Rohit Sharma was completed with a mark of a 6 wicket victory in the third T20 match against Australia yesterday.
India and Australia end the T20 series between them with a 2-1 score, and this is the actual fact that Australia needs to work hard in the T20 World Cup, which starts in October 2022. The strategy made between Rohit Sharma and Rahul Dravid was to give a way to Virat Kohli, who overcame his failure and now the team can trust him well to win the match. That's what happened in Sunday's match as Virat Kohli made runs along with Suryakumar Yadav, who scored 69 runs in just 36 bowls.
At the end of the third series, Virat Kohli revealed the strategy on which he worked, and that is, Rohit and Rahul told him to just bat well with the support of Suryakumar Yadav, who is passionate about his game, and at the end, Dinesh Karthik and Hardik Pandya took the game to a high height and surpassed the score, which means it will be impossible for Australia to create such scores in just 20-overs.
I never knew what was going on in the minds of my captain and coach at that moment and whatever they told me, I don't know how well it was, but I played my game, which is based upon the strategy of Rohit and Rahul Dravid, says Virat Kohli.