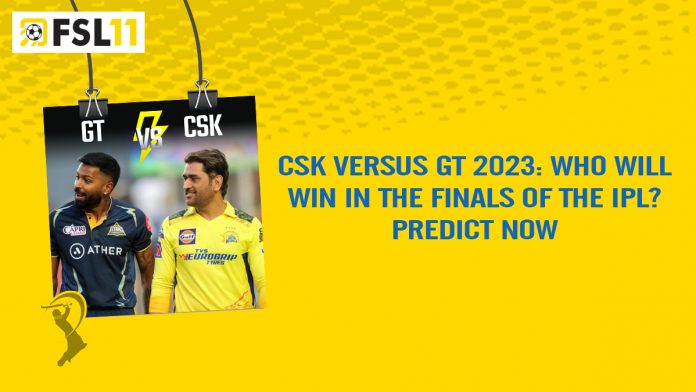 The finals of the Indian Premier League 2023 are going to be held on May 29 at the Narendra Modi Stadium in Ahmedabad. Fans got a little disappointed with the delay in the match, but those finalists, CSK and GT, look forward to playing a big game in today's match [Monday].
The situation occurred due to heavy rain in Ahmedabad. While the teams are very excited to play such a mind-blowing game in the IPL finals to win the title, Ahead of the IPL finals, the winning records of both teams are wonderful, as CSK and GT won many games in the limited-overs league.
The one-time winning team, the Gujarat Titans, along with a four-time title owned by the Chennai Super Kings, reached the finals on their own. The Chennai team reached the IPL finals directly after defeating the Gujarat Titans in the first qualifier match.
And also, the Gujarat Titans have found a way to reach the finals after dominating the game against the Mumbai Indians in the second qualifier round of the IPL 2023. The way Shubman Gill played a valuable game for his side has given new hope to captain Hardik for playing in the IPL finals. Hats off to their passion and confidence to get a chance to perform in the last match of the IPL 2023.
In the debut season, the Gujarat teams had to defeat the Yellow team just to win the title of the IPL 2022. But now the situation has changed, as Chepauk has dismissed Gujarat sides to get into the finals of the IPL 2023.
According to the situation, the prediction of GT vs. CSK is not easy, as those teams are working very hard to win the title. Around 60% of the audience supports CSK only for MS Dhoni, and the remaining are looking forward to the Gujarat Titans' chase for victory in the finals of the IPL 2023 on May 29.
If you agree with the above-mentioned statement, then you are now on your way to winning cash prizes. The safest and most secure place online is fsl11.com, which provides prediction opportunities for cricket followers to play and win great rewards in the end. Play in the last match of the IPL 2023 for your own team, which would help you win huge cash in return.