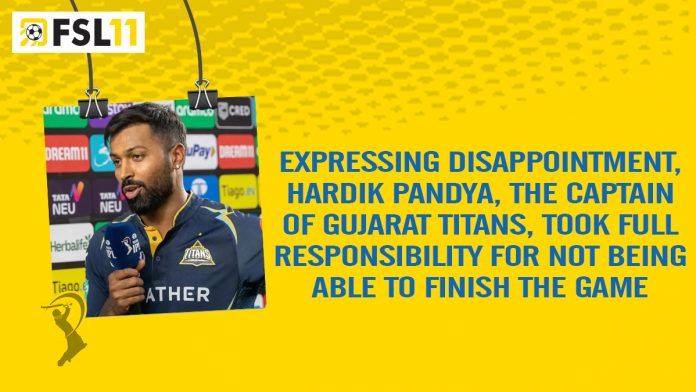 Expressing disappointment, Hardik Pandya, the captain of Gujarat Titans, took full responsibility for not being able to finish the game. He attributed the early loss of wickets to the team's pressure and mentioned his own struggle to find a rhythm toward the end. Although Gujarat Titans were chasing a modest target of 131, they found themselves in a precarious position at 32 for 4.
Pandya's unbeaten 59 off 53 balls kept them in contention, and Rahul Tewatia's quickfire 20 off 7 balls, including three consecutive sixes, further revived their chances. However, in the final over, with 12 runs needed, Ishant Sharma (2/23) maintained his composure, preventing the defending champions from reaching the target as they finished at 125 for 6.
"Without a doubt, on any given day, we would have accepted a target of 129. Those last couple of wickets and Rahul's contribution brought us back into the game. I gave my best effort but couldn't capitalize. Ultimately, it comes down to my failure to finish the game," Pandya expressed during the post-match presentation.
"At that point, we were hoping for a few big overs in the middle, but we couldn't find our rhythm. It was a new experience for Abhinav (Manohar) as well. I believe we lost this game because I couldn't find my rhythm, and we kept losing wickets early, which put us under pressure. We prefer taking the game deep and achieving a couple of big overs, which unfortunately didn't happen," Pandya explained, acknowledging the effective bowling performance of the Delhi team, especially their quick bowlers who made early breakthroughs during Gujarat's powerplay.
"Credit goes to their bowlers, and I take full responsibility for my team's inability to finish the game. I should have done it. The wicket was favorable enough," Pandya admitted.
"I think it was more about the pressure imposed by the wicket rather than the wicket itself. It was slightly slower than what we are accustomed to here, but the opposition bowlers performed really well. We lost a few early wickets, which required us to take some time. We couldn't find our rhythm in the middle. The intent needed to be there…but when you keep losing wickets, it becomes difficult to maintain that intent," Pandya added. Mohammed Shami's outstanding bowling figures of 4/11 in four overs played a crucial role in dismantling the Capitals' top order.
"I feel sorry for him. When you bowl like that and restrict the opposition to 129, the batters, including myself, are disappointed. I don't think the pitch had much effect. It was primarily due to Mohammed Shami's exceptional skills and the way he made the ball talk," Pandya praised Shami's performance.
"Otherwise, I believe the pitch didn't offer much assistance to fast bowlers. But the way Shami bowled continuously for four overs and brought us back into the game deserves full credit. As I mentioned, the batters, including myself, failed to finish the game, and we let him down," Pandya concluded.