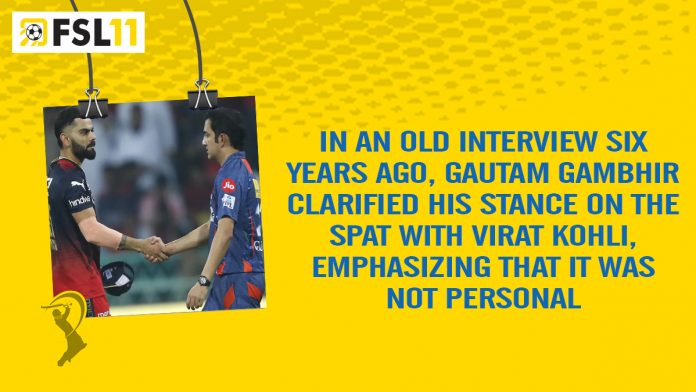 The on-field altercation between Virat Kohli and Gautam Gambhir has sparked intense discussions since Monday night. Things took an ugly turn after an IPL 2023 match between Royal Challengers Bangalore and Lucknow Super Giants, with Kohli and Gambhir at the center of the controversy. Following the game's conclusion, the two players engaged in a heated exchange.
However, this was not the first time these two stars clashed on the field. During the 2013 and 2016 IPL seasons, when Gambhir represented the Kolkata Knight Riders, they had previous altercations. In a previous interview with NDTV six years ago, Gambhir clarified his stance on the spat with Kohli, emphasizing that it was not personal.
"I want to clarify one thing. When you compete against each other, you need to be aggressive for your team. As a leader, if you want your team to be aggressive, you must lead by example. You can only expect your team to play in the same manner as you do on the cricket field. Both of us are passionate and aggressive individuals. We strive to perform well for our respective teams. Even if we have differences of opinion while playing for the same team, there's nothing wrong with that. In fact, having different perspectives can be beneficial. Our common goal is to make our country win," Gambhir explained in the interview six years ago.
"There was nothing personal about it. That's what we have always believed. Even when we had arguments on the cricket field, we interacted quite nicely off the field. This is part of being professional, as professional athletes do."
"I want to make it very clear that if I face Virat again tomorrow, and if I need to be aggressive, I will be. It's my personality, and it's how I want to play the game. I expect the same from him. We are good friends, and we want to remain so off the field. On the cricket field, it's serious business."
Both Gambhir and Kohli were fined 100% of their match fees following their recent altercation.