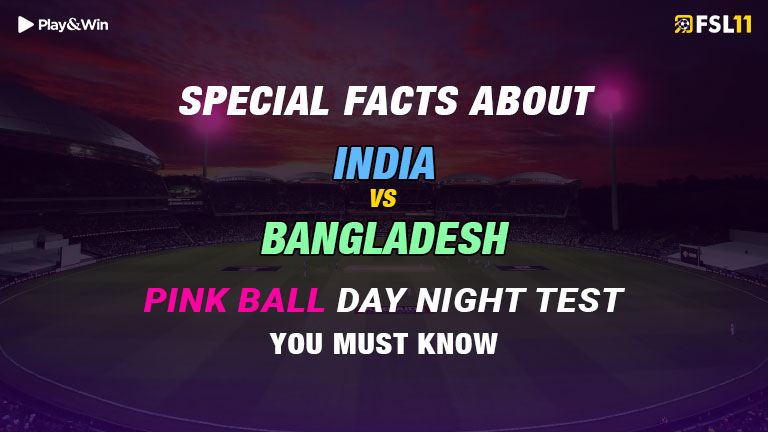 The test between Team India and Bangladesh will be a historic match today!  
India and Bangladesh will get the privilege to be part of this revolutionary decision of introducing Pink color ball to international test cricket. 
Cricket lovers and fans are reaching the cricket ground in a large count and the crazy crowd of Eden Gardens, Kolkata is eager to witness this very first test with the pink ball in India.

About FSL11

FSL11 is India`s premium fantasy sports platform which is created by focusing totally on sports fans, majorly the cricket fans of India where they can play fantasy cricket and participate in live matches. FSL11 offers huge chances to the users to win exciting cash prizes every live match.
Fan count of Cricket is huge in India and Asian countries, but several European countries are less crazy for Cricket leagues. Cricket authorities are always putting efforts to increase the TV and Stadium audience and fan crowd. Introducing Pink Ball for test cricket format is one of the revolutionary decisions to increase the TV audience.

Facts about using Pink ball to day-night test cricket:
The idea of pink ball was planned to boost the five-day day-night test match format and to make match more viewer-friendly as most of the people watch the match after their day working.
It is difficult for a batsman to see red ball in floodlight during the day-night match but the pink ball is easily visible, they tested yellow and fluorescent orange as well but pink ball got to come out as the best solution.
Australia won each of their 5 games and are the most successful side in pink-ball cricket
West Indies couldn't perform well with the pink ball so far, they have lost all their 3 pink ball Tests
Pakistan dominate the batting records in Day-night Tests using the pink ball
Countries like Australia, New Zealand, England, South Africa, West Indies, Pakistan, Sri Lanka, Zimbabwe have already played D/N Tests.
Let see the big change the pink ball will bring to day-night international test cricket.
Download fantasy cricket app FSL11 and start participating in live cricket matches by creating your own perfect 11 team to win big.