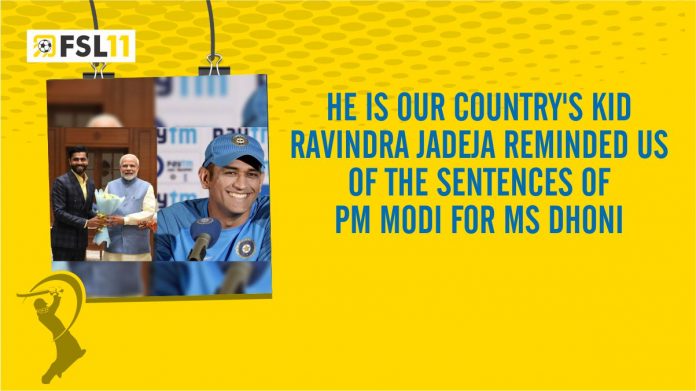 At the 2022 T20 World Cup, Ravindra Jadeja's administrations were missed by the Indian cricket crew. The star all-rounder's nonattendance implied that the equilibrium of the side experienced in the super occasion, where the Rohit Sharma-drove side lost to Britain in the semi-finals. Throughout the long term, Jadeja has turned into a significant individual from the Indian cricket crew with his wily left-arm turn, reliable lower-request batting and spectacular handling. Jadeja, who missed the T20 World Cup because of a physical issue, has up to this point played 60 Tests, 171 ODIs and 64 T20Is for India.
He as of late related a fascinating episode including State leader Narendra Modi and previous India chief MS Dhoni. "I had initially met him (State leader Narendra Modi) in 2010 in Ahmedabad. He was the central pastor of Gujarat in those days," Jadeja said in a video posted by Free Press Diary.
We (India) had a match against South Africa in the Motera Arena. Mahi bhai (MS Dhoni), who was our commander in those days, acquainted me with him. Modi Sir said, 'He's our kid, deal with him)'. " I felt better when he said this." Jadeja's better half Rivaba is BJP's face from the Jamnagar North body electorate in the Gujarat Get together Decisions.
As of late, Chennai Super Rulers declared their full rundown of held players for the impending time of the IPL and a ton of their fans were thrilled to see the name of all-rounder Ravindra Jadeja in it. The CSK star had a hot season in IPL 2022, as his own and the group's exhibition went down following he was given over the captaincy reins. Mid-season the CSK captaincy was given back to MS Dhoni.
There was a great deal of hypothesis about Jadeja's future with the establishment as a few news reports expressed that he had an aftermath with the administration. In any case, that multitude of theories were settled last week as Jadeja highlighted in CSK's rundown of held players. CSK took to twitter to post a message on Jadeja's maintenance and the tweet has turned into a web sensation.