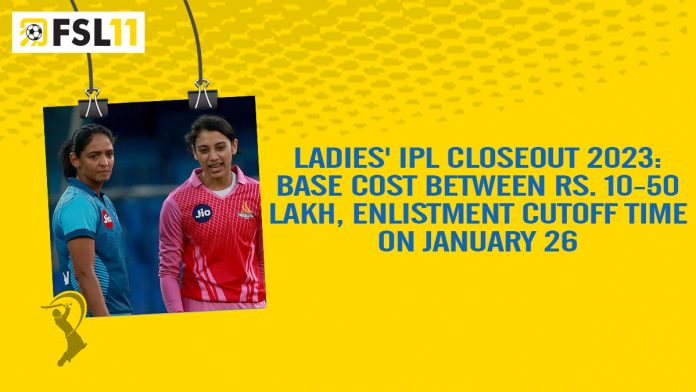 The base cost for the debut sell off in front of the Ladies' Indian Chief Association (WIPL) has been separated into five classes from Rs. 10 lakh to Rs. 50 lakh. The cutoff time for enlistment for the closeout is January 26.
As per the "direction notes" available to be purchased enlistment framework shared by the Leading group of Control for Control for Cricket in India (BCCI) with the state affiliations, got to by Sportstar, the save costs a female cricketer can pick are determined.
While covered players – the individuals who have played for India or right now have a focal agreement – can pick either Rs. 30 lakh, Rs. 40 lakh or Rs. 50 lakh as their base value, the uncapped cricketers have been given two choices (Rs. 10 lakh and Rs. 20 lakh).
The correspondence to state affiliations is explicitly relating to Indian cricketers' interest. A BCCI functionary affirmed that similar five classifications will be followed for abroad cricketers.
While the email doesn't determine sell off or WIPL dates, it expresses that the closeout will be held "in February" and the debut WIPL version will be played from the very outset of Spring till the finish of Spring. It is perceived that the speculative date for the bartering is February 11 and the WIPL is set to be played in Maharashtra from Walk 6 to 26.
The bartering enlistment process commands a cricketer to proclaim her own patrons and furthermore bars players specialists' immediate contribution in the closeout cycle.
BCCI will just manage the State Affiliations and never will have any correspondence with player specialists or supervisors. Any disappointment by a player to maintain this condition will (except if BCCI in its only carefulness chooses in any case) bring about the player's name being removed with quick impact from the Bartering Register as well as Closeout Rundown (as proper)," states the order.