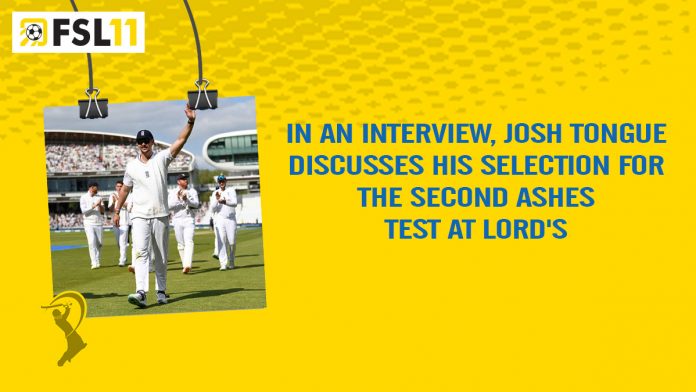 The opening match of The Ashes 2023 was a closely contested affair between England and Australia at Edgbaston, with both teams evenly matched over the five days. However, a superb innings from captain Pat Cummins in the latter stages of the game helped the Aussies secure a thrilling two-wicket victory.
As the second Test of the series approaches at Lord's Cricket Ground on June 28th, England have announced their squad for the match as they seek to bounce back. Notably, experienced all-rounder Moeen Ali has been omitted from the squad, while 25-year-old Josh Tongue has been included as part of an all-out pace attack, with Joe Root providing the spin option.
In a video shared by the ECB on their social media platforms, Josh Tongue expressed his excitement about fulfilling his childhood dream by taking part in the Ashes series. Tongue described it as an incredible feeling, explaining that ever since he was a young child, he had always aspired to be part of the Ashes. He eagerly anticipated the opportunity and acknowledged that playing in such a series is a remarkable and cherished experience. Reflecting on his journey, Tongue emphasized that the moment held special significance for both himself and his family due to the challenges he had overcome. He eagerly anticipated playing at Lord's, the renowned Home of Cricket, in front of a packed crowd. 
Tongue also mentioned his previous Test match against Ireland, acknowledging that it hadn't fully sunk in yet. Despite not taking any wickets in the first innings, he found immense relief and confidence when he managed to claim two wickets in the first over. The achievement of taking five wickets at Lord's and earning a place on the Honours Board held particular significance for him, highlighting the special nature of the accomplishment.