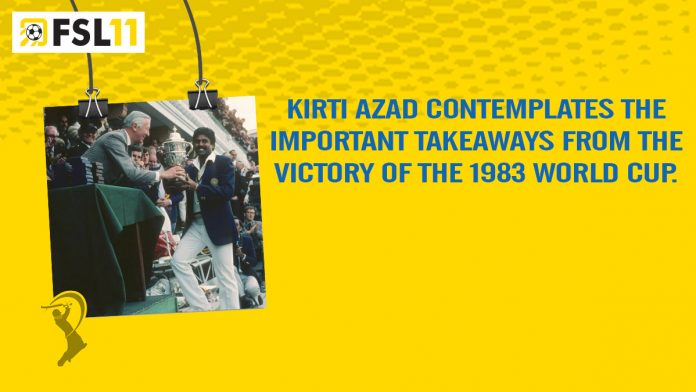 Kirti Azad, a former Indian all-rounder and member of the victorious 1983 World Cup squad, recently shared his insights on the significant lessons learned from the tournament. Azad emphasized the crucial role of teamwork that the Indian team grasped during the competition.
"While individual brilliance certainly matters in cricket, we realized the paramount importance of teamwork. Our greatest takeaway was the understanding that to achieve remarkable feats, all 11 players must come together as a cohesive unit. Against all odds, we accomplished the impossible at Lord's. When we arrived in England for the World Cup, nobody gave us a chance," Kirti Azad stated in an interview with Sportstar.
"Initially, our primary goal was simply to qualify, considering our disappointing performances in the previous two World Cups. However, we grew and evolved with each game, and our unwavering belief in our ability to compete propelled us forward," he added.
"The impact of our victory was immense. India emerged as a cricket powerhouse, lifting the coveted trophy at Lord's and subsequently hosting the 1987 edition. For the first time, the World Cup transcended the boundaries of England. The global acceptance of India's ability to play exceptional cricket and serve as a remarkable host was a significant achievement. Moreover, the 1983 triumph inspired numerous youngsters, including Sachin Tendulkar, to pursue cricket. It revolutionized the game in India," Azad expressed.