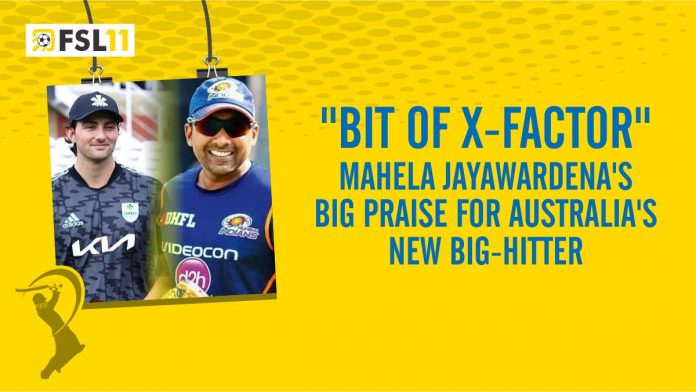 Team India and Australia are ready to create a new record of victory in the T20 series, which is going to start on Tuesday at Mohali. This time, people will keep full observation on the performance of the most favorable contestant, Tim David, who has created a great spot in the eyes of his fans in IPL 2022.
The former Mumbai Indians coach and cricketer of India, Mahela Jayawardena, also thinks the same thing about Tim David, and according to him, Tim David is the strength of Australia, which can create a fabulous spot in the three T20 matches for Australia and also ahead of the T20 World Cup 2022 competition, which will be held in October 2022.
Tim David has created stunning records by which he is appointed in the Australian team to perform under captain Aaron Finch. Tim David's T20I debut was in an international tournament held in 2019 and after which he played 14 matches and scored 558 runs with a strike rate of 158.52. His productivity was spotted in the IPL 2022 when he was playing for the Mumbai Indians and that's the reason Mahela Jayawardena felt concerned about him ahead of the T20 series starting on Tuesday.
I really think that Tim David will create a new score or something which has never been done by anyone in the history of cricket. I like the way he bats freely to hit brilliant shots in the game and this is the reason I don't want to keep any expectations on him because I am very sure that he will do beyond my expectations, says Mahela Jayawardena in the ICC Review.
It is important to recognize hardworking players on the other side, but we must also consider some other players, such as Virat Kohli, who is working hard to cause major damage for Australia in the T20 series and will then continue to support India in the ICC T20 World Cup 2022.