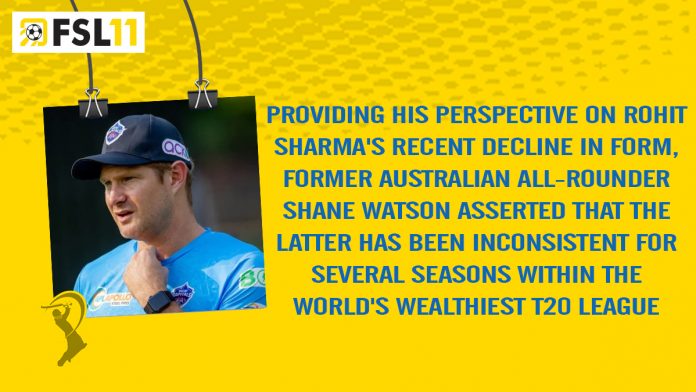 Undoubtedly, Rohit Sharma, the captain of the Indian cricket team, has encountered difficulties in scoring runs throughout the ongoing season of the Indian Premier League (IPL). Leading the Mumbai Indians (MI) franchise, the influential figure has only managed to achieve a solitary half-century in IPL 2023. With Rohit at the helm, it appears highly improbable that the injury-plagued Mumbai Indians squad will secure a playoff spot in this lucrative league's current campaign.
Occupying the eighth position on the points table among ten teams, Rohit's Mumbai Paltan has suffered four defeats in their initial seven matches this season. Providing his perspective on Rohit's recent decline in form, former Australian all-rounder Shane Watson asserted that the MI skipper has been inconsistent for several seasons within the world's wealthiest T20 league.
"Managing one's mental energy is an immense challenge. International cricketers worldwide participate in a substantial amount of cricket, but Indian cricketers endure a relentless schedule throughout the year. Considering Rohit Sharma's additional responsibilities as the captain of the Indian team, it's even more demanding for him. If he appears mentally fatigued, it's understandable. Regarding Rohit Sharma, we have witnessed his brilliance, but over the past four or five IPL seasons, he hasn't exhibited consistent performances. It's perplexing because he is an exceptional batsman who dominates top-quality bowlers from around the globe in diverse conditions," expressed Watson during an interview with The Grade Cricketer on YouTube.