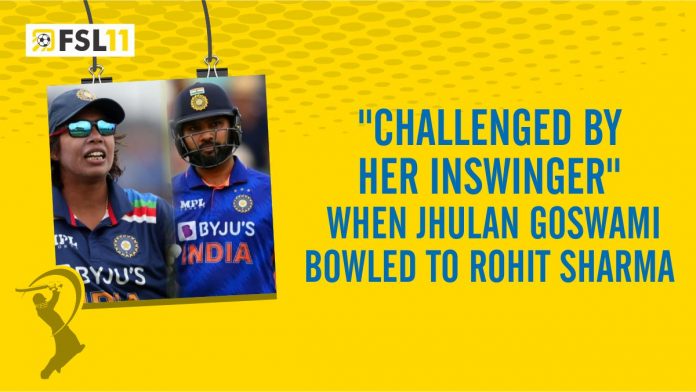 Jhulan Goswani, the skilled and passionate performer in the women's team who represents India, is yet to take permanent retirement from cricket after the end of the ODI series against England. On Sunday, The Gentlemen's Rohit Sharma paid tribute to Jhulan Goswani, 39. It is useless for any cricketer to leave without giving respect to the other reputed cricketer, and that's what happened with Rohit Sharma.
The hitman, the captain of India, Rohit Sharma, congratulated the pacer of the women's team, Jhulan Goswani, on September 18th in front of the press and called Jhulan "stalwart", who played around 250 international matches for India and gave the women's cricket team a new identity through their hard-work. As of now, people are taking women's seriously that they can beat men's in any tournament.
Rohit Sharma also revealed when they met and how that experience went. Rohit Sharma was injured and receiving training from the National Cricket Academy [NCA], where he met Jhulan Goswani. Both were recovering from injuries and preparing to pass the medical test for such a tournament. And that was the time when Rohit faced up to Jhulan bowls while practising in the nets.
I recall a difficult game that occurred at Net while we were recovering from an injury and preparing to pass a health test at NCA."Jhulan Goswani issued me an open challenge to face her fastest bowl delivery in net."I was challenged with Jhulan inswinger and their only i felt glad to see her game and thought that she will create a unique record in the Women's tournament and yes my prediction is correct for Jhulan and also congratulate to both Jhulan Goswani and Mithali Raj for what they did for India in cricket, says Rohit Sharma in Press.