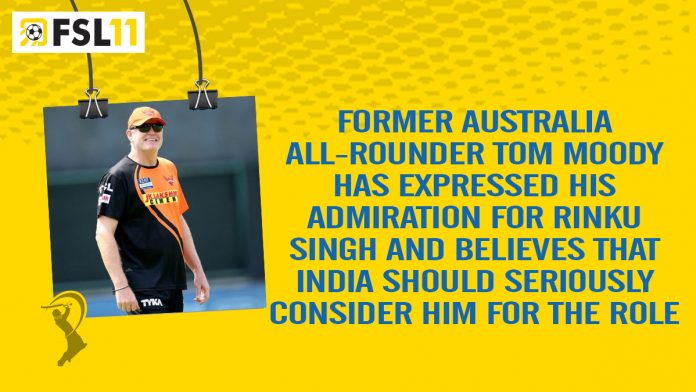 Former Australia all-rounder Tom Moody has expressed his admiration for Kolkata Knight Riders' (KKR) batsman Rinku Singh and believes that India should seriously consider him for the role of finisher in future matches. Despite KKR's disappointing season, Rinku has been a shining light for the two-time champions. In 14 matches, he scored 474 runs at an impressive average of 59.25, including four half-centuries, with a strike rate of 149.5. In a recent game, Rinku played an unbeaten innings of 67 off just 33 balls, although KKR narrowly missed out on victory by one run.
Moody remarked, "We have now seen that he is the finisher India should contemplate for upcoming World Cups. He has displayed remarkable temperament, skill, and consistency with the bat. It's evident that he possesses the necessary abilities and a strong foundation. With a first-class cricket average of nearly 60, he hasn't emerged as a brilliant ball striker out of nowhere. One of the most striking aspects is his temperament, which is akin to that of renowned finishers like Michael Bevan and Michael Hussey. The best finishers possess calculated and composed minds, especially under pressure, and Rinku seems to possess that quality."
Moody further highlighted Rinku's composure and control, drawing parallels with the likes of Michael Bevan and Michael Hussey. Although he hasn't personally worked with Rinku, Moody observed his composed demeanor and likened it to the way Bevan approached matches, keeping them under control even when it seemed the game was slipping away. He also mentioned Hussey, who demonstrated a calm and composed approach to finishing games.
While Moody acknowledged that his assessment is based on observation rather than personal interaction, he emphasized Rinku's ability to understand the art of finishing matches in a cool and collected manner, reminiscent of the esteemed finishers of the past.