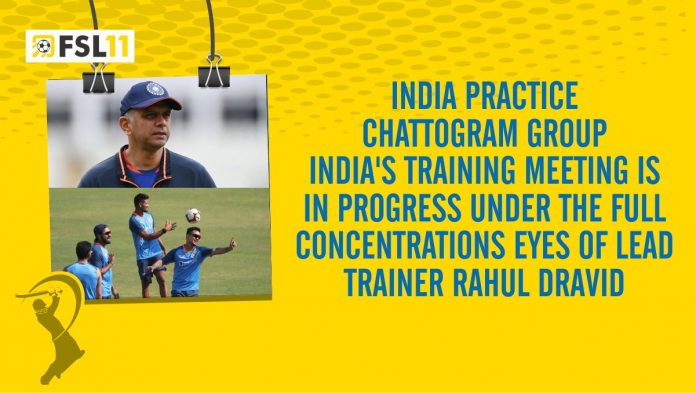 India Practice Chattogram: Group India's training meeting is in progress under the full concentrations eyes of lead trainer Rahul Dravid. The BCCI posted on Twitter illuminating the fans about Group India's landing in the arena in Bangladesh. Dravid was seen tending to the players in front of the compulsory practice meeting. A couple of players like Cheteshwar Pujara, Ravi Ashwin and others could be handily distinguished in the image.
Rahul Dravid should be visible in a cluster, tending to the players in Chattogram, the scene of the main Test, beginning from Wednesday.
On Sunday, spinner Ravichandran Ashwin was seen doing solo practice to get once more into the score. Ravichandran Ashwin, Cheteshwar Pujara and KS Bharat were available for India's discretionary practice meeting Chattogram. While Bharat and Pujara highlighted in the India A game recently, Ashwin returns interestingly after the T20 World Cup. Different players took a rest following their contribution in the ODI on Saturday.
Group India will hold a discretionary practice meeting on Sunday as they gear up for the impending Test series. Ravichandran Ashwin got together with the crew in Chattogram and has started preparing solo for the series. Cheteshwar Pujara and KS Bharat are likewise expected to start practice on Sunday. The team played the second informal Test against Bangladesh An in Sylhet.
Nonetheless, any semblance of Kuldeep Yadav, KL Rahul, Virat Kohli and others will take a rest having played the third ODI on Saturday. In the interim, Umesh Yadav anyway ought to stir things up around town close by substitutions Saurabh Kumar and Abhimanyu Easwaran. Jaydev Unadkat is called up to the Test crew yet will be yet to head out to Bangladesh.
It is a significant series for Group India, with their expectations of a WTC last debut yet to be determined. India need to win every one of their excess six games to have a potential for success to play the highest point conflict at the Oval. After the ODI series misfortune, the Men dressed in Blue can't bear the cost of any more mistakes on this visit.
India Test Crew: KL Rahul (C), Shubman Gill, Cheteshwar Pujara (VC), Virat Kohli, Shreyas Iyer, Rishabh Gasp (WK), KS Bharat (WK), Ravichandran Ashwin, Axar Patel, Kuldeep Yadav, Shardul Thakur, Mohd. Siraj, Umesh Yadav, Abhimanyu Easwaran, Navdeep Saini, Saurabh Kumar, Jaydev Unadkat.