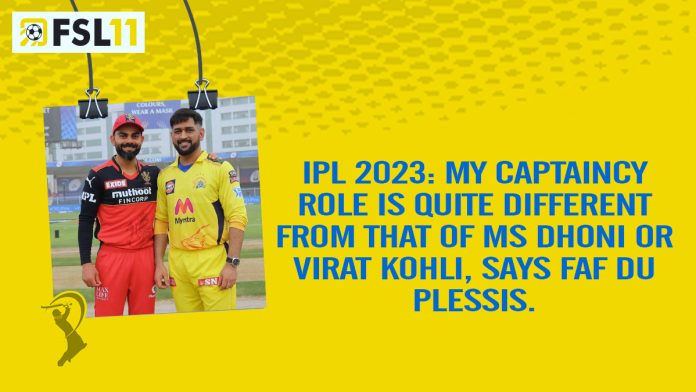 The Indian Premier League is entering a new stage, and each of the participating teams is a little worried about their playoff qualification. The Royal Challengers Bangalore are left to finish their last two games, which would decide their playoff seat confirmation. However, they have a total of 12 points, and this is not enough to continue the competition and reach the finals of the IPL 2023.
The all-time struggling team captain, Faf du Plessis, is on his way to taking his side to the IPL playoffs. The RCB team will interact with Sunrisers Hyderabad in their 65th match of the t20 IPL on May 18 at Rajiv Gandhi International Stadium, Hyderabad.
Ahead of the cricket competition, Faf du Plessis spoke about his captaincy abilities and also highlighted that his leading role is unique and not similar to that of MS Dhoni and Virat Kohli. However, Virat Kohli is the super-strong batsman of the Royal Challengers team, but his captaincy is not as powerful as his batting. Whereas, the legendary cricketer, captain, and true-hearted person, MS Dhoni, is a successful captain, as under him India won three ICC trophies in the past. And also, CSK won four times the title of the IPL in 2023.
My captaincy is quite different, as I never captained like Dhoni or Kohli in the Indian Premier League. Hence, we are unique; our abilities are also different, as is our thought process, which doesn't match any others, says skipper Faf du Plessis.