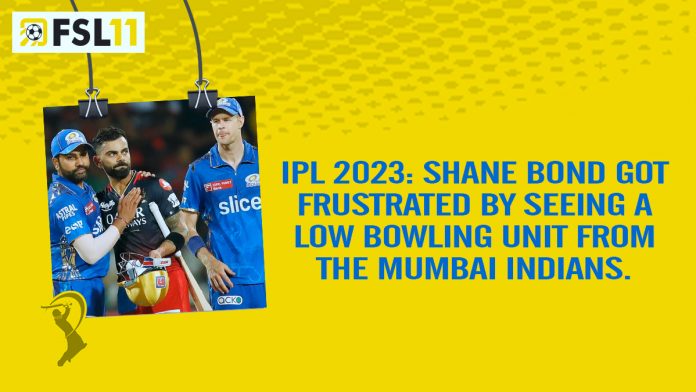 The Indian Premier League 2023 playoffs will begin on May 23, and we don't know who will be the opponent, the Gujarat Titans. The first team that qualified for the IPL's playoffs was Gujarat. And all the other teams are finding their ways to qualify for the playoffs; the remaining three places are left for their qualification.
The Mumbai Indians, the third-highest points-achieving team, failed to dominate the game by only five runs against the Lucknow Super Giants on May 16. After the match ended, the LSG received similar points to that of the CSK, i.e., 15, and it's quite difficult for teams to dominate the last game to get placed in the playoffs. However, the 14-point achiever team, the Mumbai Indians, had lost to LSG, and this would affect their playoff chances as well.
By seeing the result of the last match, the Mumbai team's coach has found the reason behind their loss. According to Shane Bond's statement, the Mumbai Indian bowling unit was very low in front of the Lucknow teams. Marcus Stoinis, who made a comeback from the injury, had given a huge run contribution to his respective teams. Krunal Pandya's personality and playing thoughts are quite similar to those of his brother Hardik Pandya, as he managed both the captaincy and batting roles at the same time.
Our playoff chances are in danger. We must dominate the last game, says MI coach Shane Bond. Hopefully, the team could dominate the last match, and they also need to depend on other teams victories in the limited-overs league.