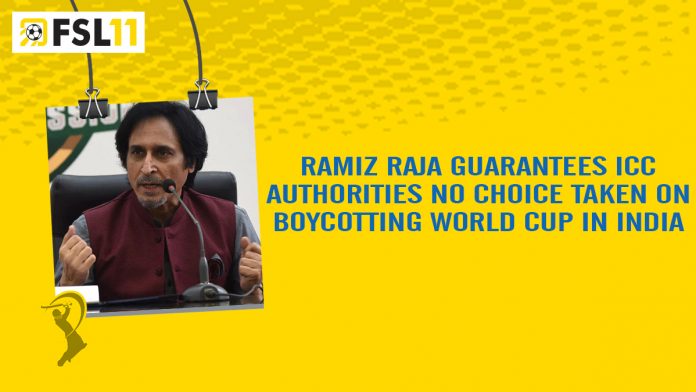 As the discussions smooth down with the two India and Pakistan participated in their particular series, a new update has shown up on Pakistan's position on boycotting the ODI Cup, which will be held in India one year from now. According to a report in PTI, the Pakistan Cricket Board (PCB) has informed ICC authorities that it had taken steps to blacklist the ODI World Cup to come down in India to send their group for the Asia Cup, which is planned to be held in Pakistan one year from now. The report referred to a source mindful of the turn of events.
It further expressed that PCB executive Ramiz Raja let the authorities know that no choice as to Pakistan boycotting the World Cup has been made. A couple of ICC authorities, including Chief Geoff Allardice, had made a trip to Pakistan during the home Test series against Britain, which the hosts lost 0-3.
Ramiz guaranteed the ICC authorities that PCB had gone with no choice in not sending its group to India for the World Cup nor was it for boycotting such a occasion but since of the stressed cricket relations between the two nations, the PCB needed to apply strain to get the Indian board to send its group for Asia Cup," the source was cited by PTI as saying.
The report likewise had another key data, which said that the PCB boss let the authorities know that the board stays firm on facilitating the 2025 Heroes Prize regardless of India sending their players or not.
"Ramiz was extremely evident that Pakistan won't be responsive to the competition being moved elsewhere as a result of India as it had proactively begun weighty venture on building or revamping foundation for the ICC occasion," the source said.
Ramiz reminded the ICC authorities that the chief board which included India had given facilitating privileges of the Bosses Prize to Pakistan, so there ought to be no disarray regarding where the competition will be hung on time."