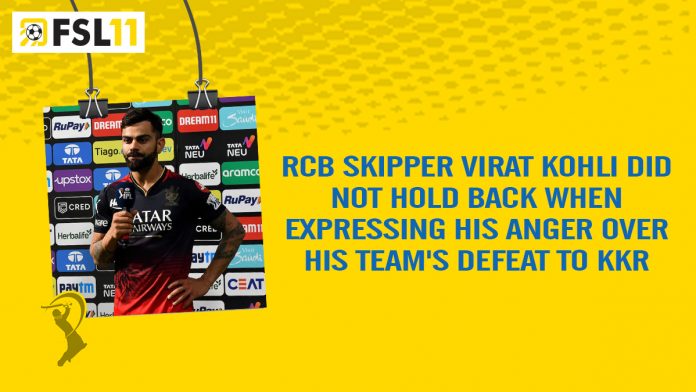 On Wednesday, the Royal Challengers Bangalore, led by Virat Kohli, suffered a 21-run defeat at their home ground, the M Chinnaswamy Stadium, against the Kolkata Knight Riders. Despite playing on a flat pitch, the RCB bowlers were heavily dominated by the KKR batsmen, resulting in a daunting total of 200/5. During the chase, apart from Kohli, the RCB batters failed to make a significant impact, leading to a lackluster performance.
With the exception of two partnerships involving Kohli, the team lacked the determination to put up a fight. Furthermore, RCB's bowlers were expensive, and their fielding was subpar, as they dropped straightforward catches. Acting as RCB's skipper, Kohli expressed his frustration and made it clear that the team had handed the victory to their opponents.
Kohli's post-match remarks were straightforward and honest, highlighting RCB's shortcomings. He admitted that their overall professionalism was lacking, particularly in terms of fielding. The team's poor fielding cost them around 25-30 runs, especially during a crucial 4-5 over period. Kohli also pointed out that while batting, RCB had set themselves up well, but their downfall came from four to five soft dismissals.
Instead of playing shots that would have taken wickets, they hit the ball straight to fielders. Even during the chase, RCB's chances of victory were revived by one partnership, but they ultimately fell short by one more partnership. Kohli emphasized the need for the team to remain focused and avoid making careless mistakes. He acknowledged that winning away games is essential to strengthen their position in the later stages of the tournament. Despite their mixed results so far, RCB remains determined and not overly anxious about their performance on the road.