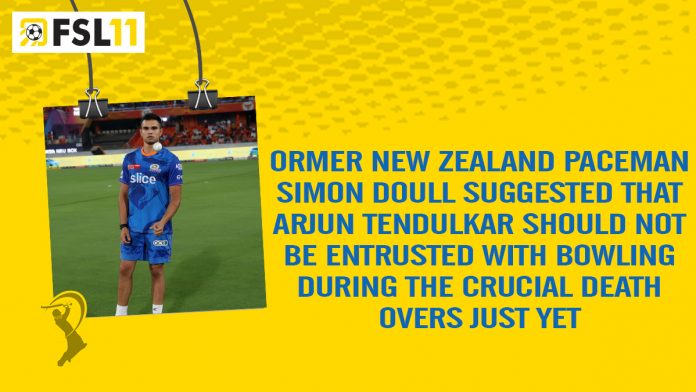 Arjun Tendulkar, the son of legendary batsman Sachin Tendulkar, has attracted significant attention from cricket enthusiasts and experts since his debut in the Indian Premier League (IPL) 2023. During his first appearance for the Mumbai Indians against the Kolkata Knight Riders (KKR), Arjun failed to secure a wicket. However, in his subsequent match, the 23-year-old not only claimed his first IPL wicket but also defended 20 runs in the final over, leading his team to a crucial victory over the SunRisers Hyderabad.
Nevertheless, Arjun received a reality check when he was hit for 48 runs, including 31 runs in a single over, during a game against the Punjab Kings, which resulted in a narrow loss for the Mumbai Indians.
Former New Zealand paceman Simon Doull argued that Arjun should not be trusted with bowling during the vital death overs just yet after considering his role in the Mumbai Indians' bowling attack. Doull emphasized the importance of not prematurely burdening Arjun after one poor performance, acknowledging that he has actually performed reasonably well. According to a Cricbuzz remark from Doull, "Rohit Sharma is aware that he is not yet a true death bowler. They shouldn't bowl him in the final four or five frames. But he went to him to give him an opportunity, and it cost them."
Doull further recommended that Mumbai Indians captain Rohit Sharma should utilize Arjun primarily with the new ball. Comparing him to bowlers like Trent Boult and Deepak Chahar, Doull suggested that Arjun should be given two to three overs in the initial phase of the innings, where the ball tends to swing, and then be relieved of his duties. He is not yet experienced enough to bowl towards the conclusion of an inning, according to Doull.