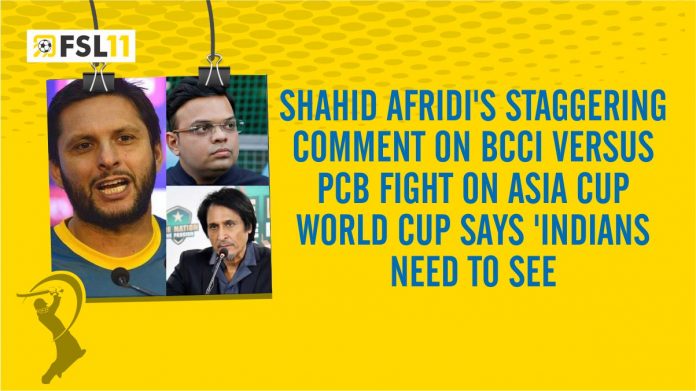 The fight among BCCI and PCB over the following year's Asia Cup and the ODI World Cup has made all in all a mix in world cricket. The conflict of words began back in October after BCCI secretary Jay Shah, who is likewise the leader of the Asian Cricket Gathering, needing the scene for Asia Cup to be moved from Pakistan to an impartial setting. PCB and its executive Ramiz Raja fought back by taking steps to pull out of Asia Cup and World Cup. In the midst of the fight between the two sheets, previous Pakistan skipper Shahid Afridi has offered a staggering comment on Asia Cup and the World Cup.
Shah dropped a sensation in October saying that the Indian group will not be heading out to Pakistan for the Asia Cup prior to demanding a difference in scene. PCB countered by saying that assuming BCCI stay firm on their words, Pakistan won't go to India for the World Cup. Ramiz had later emphasized something very similar during a meeting.
At the point when gotten some information about the continuous fight among BCCI and PCB, Afridi told media, "The relations among Pakistan and India have consistently worked on because of cricket. Indians will keep watch on Pakistan playing cricket in India."
Yet again prior last week, Ramiz had discharged shots at BCCI, advance notice them that assuming Pakistan are denied the possibility facilitating the Asia Cup one year from now by virtue of India not venturing out to the country, the Babar Azam-drove side could haul out of the competition altogether.
Maybe we don't have facilitating freedoms and we're arguing to have it," he had said as an afterthought lines of the Pakistan-Britain Test in Rawalpindi. "We won the privileges good all around. In the event that India doesn't come, they won't come. Assuming the Asia Cup moves detracted from Pakistan, perhaps we're the ones that draw out."