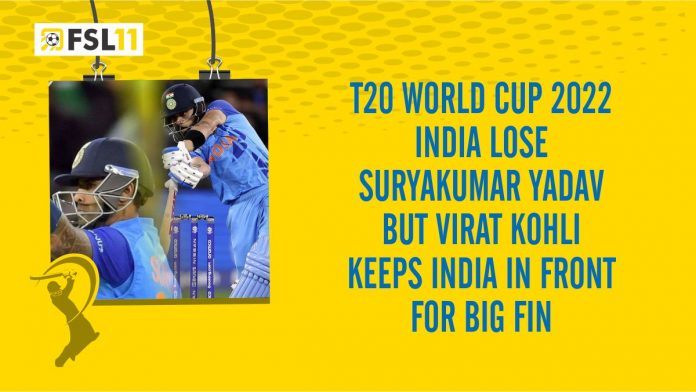 Suryakumar Yadav, the scoring machine of India and the super strongest batsman, was bowled out on Wednesday within 14 overs of the India versus Bangladesh t20 World Cup match. Suryakumar Kumar Yadav took the third batting position after India opted to bat first against Bangladesh. And this time, the ICC-ranked batsman, Suryakumar Yadav, didn't cross the halfway mark due to AI Hasan, who took his wickets when he scored 30 in just 16 bowls. 

With the support of KL Rahul and Suryakumar Kumar Yadav, India reached up to 98 percent. This time, KL Rahul played an amazing game for India to get his position back in the team. His half-century helped India reach 100 points. Whereas, Hardik only contributed 5 runs to their team, and Dinesh failed to play an unbeaten knockout within seven runs only.

Now, India's responsibility for reaching the semi-finals is in the hands of King Kohli. Virat Kohli has started batting with KL Rahul, then Suryakumar Yadav, Hardik Pandya, and now with Dinesh Karthik, and with the support of Virat's half-century, India crossed 150/4 within 16.5 overs, which implies that India has higher chances of reaching the semi-finals of the 2022 t20 World Cup 2022. Currently, India has crossed 181/6 within 19.4 against Bangladesh on November 2, 2022.
Still, India needs to wait for the final score of the tournament because Bangladesh batted left, and hopefully, India will do well in fielding because Yuzvendra Chahal is back in the Indian team, and along with Hardik, Axar, and Ravichandran Ashwin, India will succeed in stopping Bangladesh from reaching the targeted scores on Wednesday.