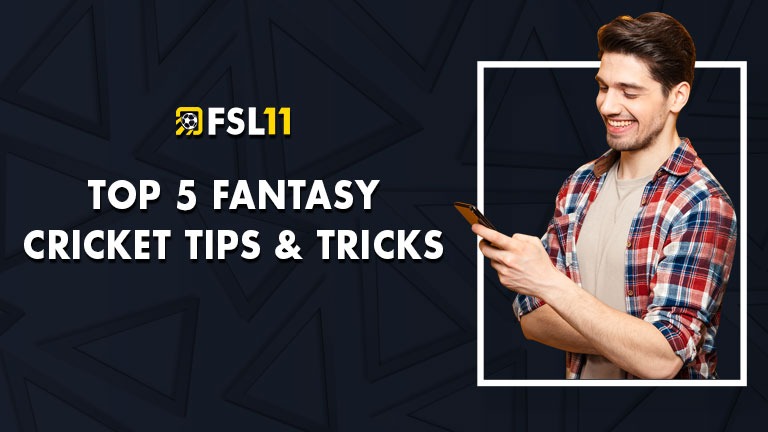 Welcome to My FSL11 Fantasy Sports Blog. Here you will get all the daily fantasy cricket-related news and prediction. You can also download our fantasy cricket app and enjoy playing daily fantasy cricket.
Fantasy cricket has grown exponentially in India in last couple of years. The main reason behind that it tends to connect the user to the sport and make them passive participant of the game. Cricket is not just a game in India, it's a religion that people follow day and night. So, Fantasy Cricket is a platform which allows them to create a imaginary team and based on that team they can earn real cash based on the eleven player that they have chosen.
So, if you are playing any game that can get you real cash rewards, then you must have a strategy and Expert Tips to get an edge over your competitor. So here are 5 Fantasy Cricket Tips and Tricks that can help you in becoming a successful fantasy cricket player.
1. Choose Your Playing XI based on Current Form:
Fantasy Cricket is not for the emotional fools, if you are willing to increase your winning probability then you need to keep your emotion aside and play based on stats and figures. Try to take players who are currently is recent form as they are likely to score majority of your Fantasy Points. For Example players like Yuvraj Singh has a great reputation but if you look at his current stats he won't be the right choice pick. This is the first and the foremost important Fantasy Cricket Expert Tip.
2. Read into the game:
Earning money from Fantasy cricket isn't snap of finger, you have read and analyse about the match news, playing conditions, playing XI etc. So the best is to read out the Article related to Fantasy Cricket Tips and Prediction where you can get all the Fantasy related news and updates. One of the best content and analysis you can find on FSL11 Blogs. This platform provides you with detailed information about each match Fantasy Predictions.
3. Analyse Pitch Report and Team Current Form:
This is one of the most important Fantasy cricket winnings Tips that people don't take into consideration. Basically, users are more inclined towards batsman then bowlers and they don't take the pitch and the weather condition into consideration and ending up on the losing side. You need to take Pitch Report into consideration while creating your team. If the pitch is on the slower side, then try to take bowler who can bowl slower bowl or who bowl the penultimate overs. Also, if one of the 2 teams is in really poor form then take less number of players from that Playing XI.
4. Play Small Members League
If you want to improve your probability on winning in Fantasy Cricket then stop playing Grand leagues or mega leagues in which thousands of users join. Play leagues which have less number of users like two members, 3 members, 4 members etc. In this league, the return on investment wouldn't be that great but probability on getting on rank 1 increases.
5. Choosing Captain and Vice Captain:
Last but not the least, Choose your Captain and Vice Captain wisely for your Team as the captain earns you 2X points the vice captain gives you 1.5X points. The combination of these 2 player will be quite crucial for your Team. Always go for a safe choice for these things like picking out players like Virat Kohli, Kane Williamson, Steve Smith etc will be preferred over Colin Munro, Chris Gayle etc as they are not that consistent when it comes to run scoring. Or the other strategy that you can use is by selecting all rounder captain who can give you Fantasy points in both the aspect of the game so even if he fails in one of the department, there is other department to cover up the points.
About FSL11 Fantasy Cricket App
FSL11 is the fastest-growing fantasy cricket app in India that serves users to play fantasy cricket online and to participate in the fantasy cricket league.