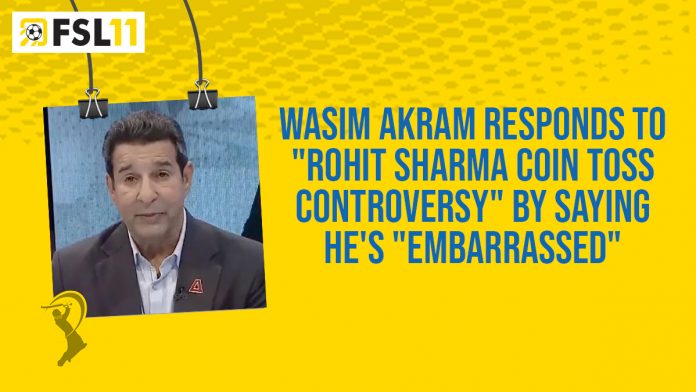 Sikander Bakht, a former cricket player for Pakistan, asserted that India captain Rohit Sharma was purposefully tossing the coin far to win the toss.
Team India easily defeated New Zealand by 70 runs in the opening semifinal at Mumbai's Wankhede Stadium on Sunday. Securing their spot in the World Cup final of cricket. The hosts chose to bat and produced 397/4 thanks to centuries from Virat Kohli and Shreyas Iyer. Who laid a solid platform for India. Then despite Daryl Mitchell's outstanding 134 and Kane Williamson's 64, Mohammed Shami claimed seven wickets as New Zealand was bowled out for 327. While the cricket world applauded the Indian team. Former Pakistani player Sikandar Bakht caused a stir with his outlandish assertion on the coin flip.
Bakht asserted that India captain Rohit Sharma was purposefully tossing the coin long in order to win the toss during an appearance on Geo News.
"Are you okay, Sharrat? If hum dikha sake toss ke waqt, then mai ek sawal kar raha hoon. Can I be permitted to get into a little mischief? Rohit Sharma jab throw karte hai vo dur fenkte hai aur dusra captain jaa ke kabhi nahi dekhta ki vo sahi usne call kiya. Rohit Sharma tosses the coin far out of reach of any opposition skipper at the moment of the toss. As a result, the opposing captain is unable to go and cross-check the call)," Bakht was heard stating live.
Nevertheless, Wasim Akram, a great pacer and former captain of Pakistan, ended the debate by criticising Bakht for his "embarrassing" remarks.
"Who chooses the destination of the coin? The mat is only available to sponsors! I'm ashamed of myself. I simply cannot, I'm not even going to talk about that," an enraged Akram stated on A Sports.