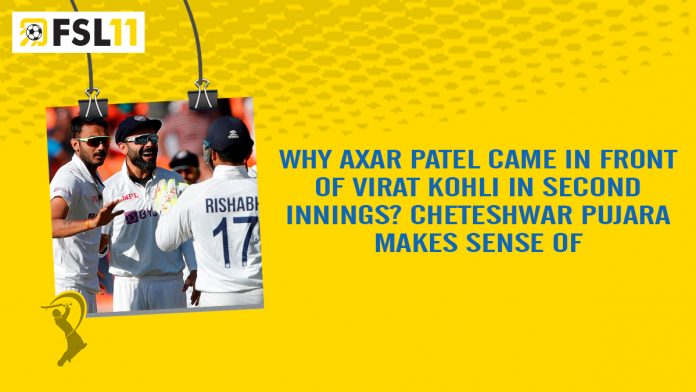 The Indian batting unit looked very flighty confronting Bangladesh's twist assault in the second match of the series on Sunday. Pursuing a miserable complete of 145 runs, India lost upwards of 7 wickets in the pursuit, with stalwarts like KL Rahul, Virat Kohli and Cheteshwar Pujara disheartening. The circumstance on Day 3 was to such an extent that the group the executives chose to send Axar Patel at No. 4 spot, likely expecting the left-hander to handle Bangladesh's spinners who were going crazy. The move, nonetheless, got a lot of reaction from previous Indian cricketers like Sunil Gavaskar and Ajay Jadeja.
Seeing Axar stroll in to bat at no. 4, Gavaskar and Jadeja were left bewildered, recommending such a drop wouldn't go down well with Virat Kohli who is seemingly the best player on the planet.
"It didn't send a decent message to Kohli. Except if Kohli himself requested it, then it's an alternate matter. We don't have the foggiest idea what occurred in the evolving room. Yet, it's difficult to comprehend. Axar has played well, obviously," he said as a pundit on Sony Sports Organization.
"It was an excellent move on the grounds that, among their three strike bowlers, two were left-arm spinners. Axar is a left-hander, so he was shipped off tackle them and to have a hitter who can bat reasonably in the underlying time frame against the Kookaburra ball. It was an essential move for us. That was a significant period of the game where we would have rather not lost such a large number of wickets at night, and he might have batted mindfully. So I was not astonished. At the point when you are pursuing a 145-run all out, each run is significant, and the manner in which he batted, his innings was truly important for us," he said.
Axar for sure played a significant thump for the Indian group, scoring 34 runs from 69 balls. He was the second-most elevated scorer for the Indian group in the innings.