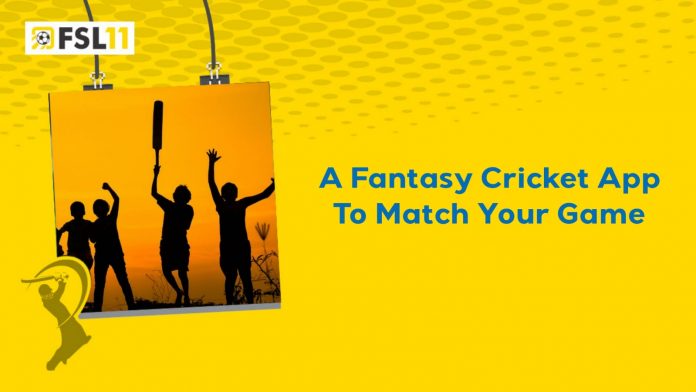 Fantasy cricket is the new way to play cricket. The technological advancement and passion for this sports has led to the development of fantasy cricket. Just the idea of making your own team, choosing the players and that too not limiting to one's nationality. Moreover you can make multiple teams and play as many matches and have a chance at making money from it. And, what you need, is just a mobile and internet.
The fantasy cricket game can be played with friends or by joining existing contests on the app or by creating your own custom tournament. There are also fantasy cricket leagues you can be part of. It can be your team winning, not the team you follow. As a cricket fan it's your dream come true. 
With the use of fantasy cricket app you can take advantage of applying strategy, tactics and team management skills. Using these facilitators help you with understanding what works and how to make the most of these options that can lead to better rewards. 
Other factors that can help soar your rewards are:
Tracking players performance: Keeping tabs on the players current performance to understand their strengths and weaknesses can help you choose the right players. A key point to note is to focus on the latest performance and not the past games. This knowledge also helps you decide on the strategy that will work against players in opposing teams.
Selecting the right captain and vice captain: This is a very important point as the captain makes 2X points and the vice captain points calculation is 1.5X. A huge difference in the world of cricket where win or lose is dependent on runs alone. The best scorers being the captain and vice captain will definitely put you over the edge.
Create numerous teams: Another advantage of fantasy cricket application is the option to choose many teams. If one team is not able to achieve your goals, another team may win and make it. The learning from this contributes to becoming better at choosing your future teams and gaining more rewards.
Location and weather: Pitch plays a huge factor in the prediction of the expected score. The weather affects the ball's turn and speed, making it a key factor while choosing the kind of bowlers you should choose for the team.
Follow live match: With the help of the fantasy cricket app, you can follow the match live from anywhere on your phone. Learning by doing is what helps make your strategy better for future use.
The game is also there to enjoy and have fun. The fantasy cricket app not only allows you to play game, create teams and win rewards, but also enjoy the game. Multiple games are being played on the platform and can be watched at a tap of a button. You can also keep yourself posted about the upcoming cricket matches. 
Don't wait up, download the fantasy cricket app now and win big.