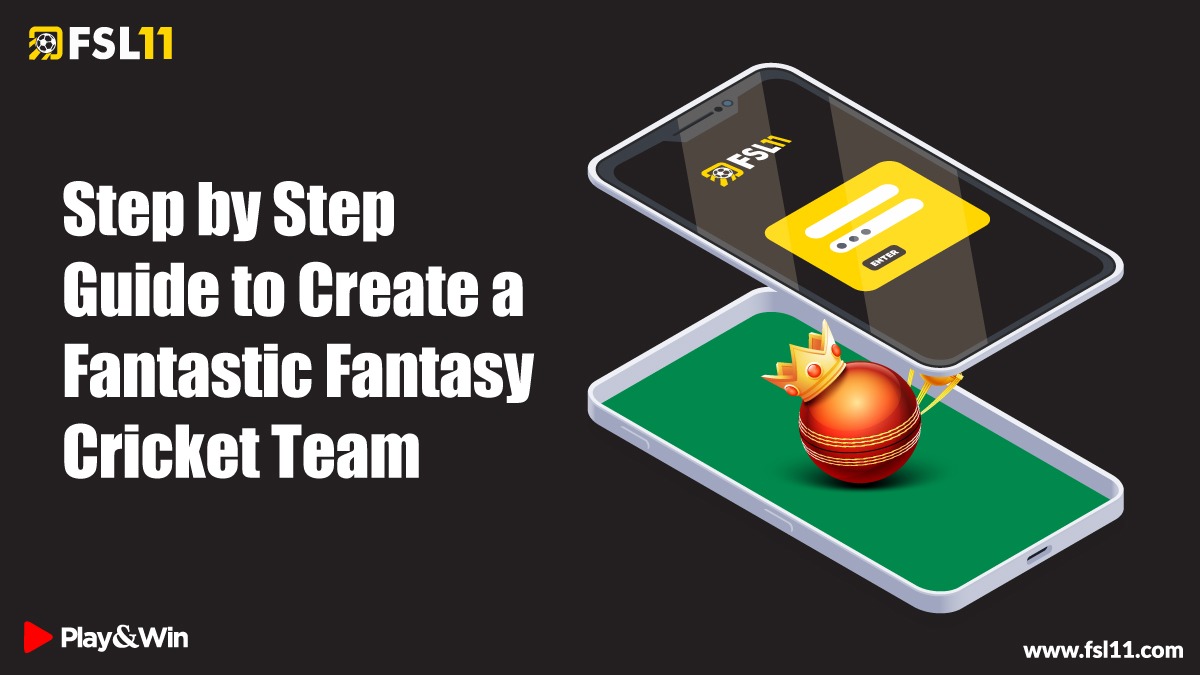 Fantasy cricket is an online game where a virtual committee of real cricket players is made you score points based on how those players play in real-life matches. Make your best team of 11 players if they perform well in a real match you get points more points higher the chances of winning the match. The best part of fantasy sport is you earn cash prizes, bonus, rewards etc.
FSL11 is India's coolest Sports Game with an exponentially rising user base enjoying fantasy cricket on apps and websites.
FSL11 is played by using your sports knowledge and skill. You can pick your own team made up of real players for Cricket. Create your fantasy cricket team within a maximum budget of 100 credits. Your team earns points based on your chosen players' performance in the real-life matches. It's time to showcase your skill and go for glory!
Here is Step by Step Guide to how to Create a Fantastic Fantasy Cricket Team –
Step 1: Research and Analysis
One of the most important steps to be followed before even thinking of investing in a fantasy cricket match is you need a lot of research work and analysis. As we all know fantasy cricket is a game of skills and nobody here can stay for long if he/she don't have cricket skills and knowledge.
The details of the match like pitch report, weather forecast even news related to the audience is also very important. A fantasy expert should ensure that he/she knows the minutest details of all the players who are likely to play in the match. There are many articles available which act as fantasy cricket team guide.
Step 2: Value Investing
By Value Investing we mean that there various types of players with different rates according to their calibre. One should ensure that the player provides value for the credits we invested for them. As if we take a high credit player we might have to miss two or three big players. So we should choose the players based on Value for Investment not based on the favouritism.
Step 3: Understanding of Venue
This is one of the most important tips which you should keep in your mind even before thinking of fantasy cricket play online. The analysis of pitch report and the weather forecast is very important as the way players have gone play a match will be decided based on pitch. Sometimes even there is very less possibility of play because of rain in that match is predicted. Avoid taking a risk in these matches to avoid the loss.
Step 4: Deciding the Captain and Vice-Captain Wisely
Most fantasy cricket platform allows denoting two players as Captain and Vice-Captain. If an ordinary player scores 10 points, the exact player if marked as captain, will get 2x, i.e 20 points. Vice captain gets 1.5x, so 15 points. So you have to think a lot before commemorating a player as captain or vice captain. Look at the recent achievements of these players and make a conclusion.
Try to choose the batsmen who have been in the form or an all-rounder who can bowl well and take wickets and even can bat well when they get a chance.
Step 5: Checking your team selection after the toss
Sometimes, due to carelessness, we make the team before the toss happens and don't see which player is playing and which team is playing first. One will lose half of the battle if the players who are selected are not playing the game. Also, after the toss, you will know which team is going to bat first. So based on this, you will be able to think the opening players and bowlers and can select the best variety of players.
About FSL11 Fantasy Sports App
FSL11 is a premium fantasy sports platform where you can play fantasy cricket games and Fantasy Cricket Leagues online. Just create your fantasy cricket team and compete with the online players. Download Fantasy Cricket App FSL11.