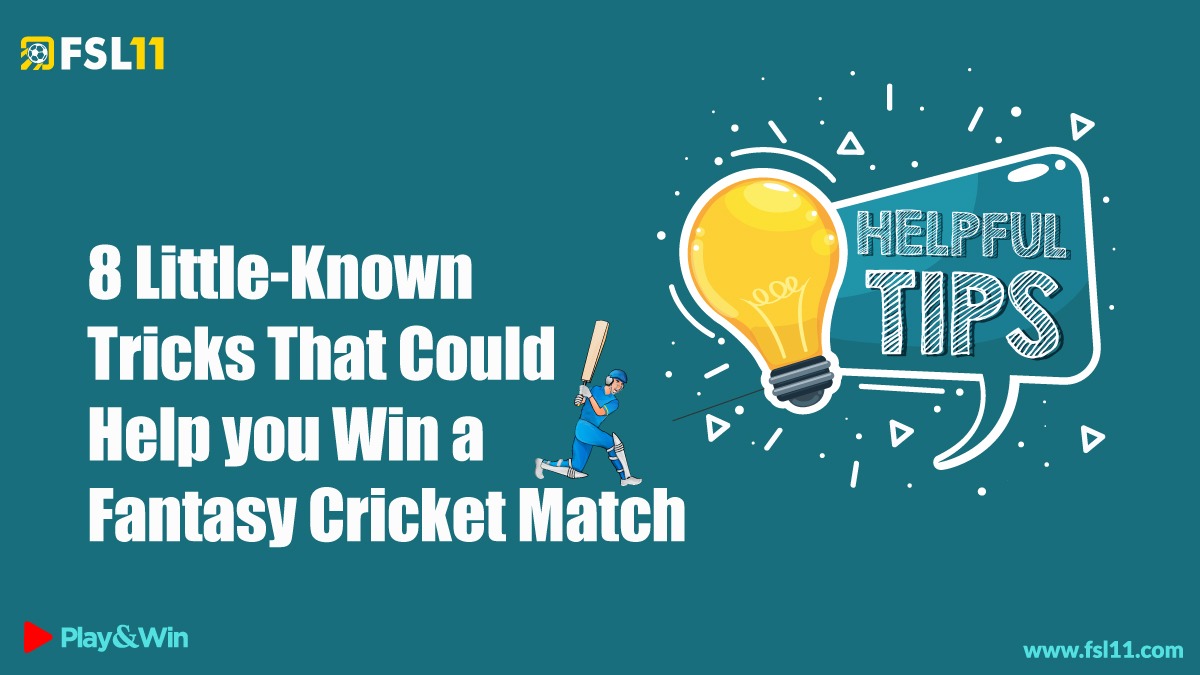 Playing Fantasy Cricket in India is all about applying your sense of cricket and mind to gain experience and money. You can make your own team as per the match and choose Fantasy cricket player and earn more and more of real cash by playing fantasy cricket. Points in all systems and leagues vary but using any of the systems, you shall ultimately win points and money accordingly at the end of the games.
With major tournaments like IPL and World cricket in the offing, here are 8 tricks that can help you to win fantasy cricket match:
1. Player Performance:
Have a close look at the performance of the player in the recent matches, if you are playing a league like IPL, have a close look at the record and the recent performance of the player. Also, review the player performance in the previous year league, for example, David Warner was in sublime touch in the previous IPL season so he will be a must-have pick in your fantasy cricket team.
2. Pitch Report:
In order to create a fantasy cricket team that can make you win daily cash prizes then you must have a proper look at the pitch report. Pitch report plays a very crucial role in creating your team, you can have a slightly upper edge against your opponent. If the pitch is on the slower side or dry like Chennai then try to take spinner and Fantasy cricket player of India as they can play spin better than the foreign players.
3. Have a Close Look at the Toss:
Toss play a crucial role in creating fantasy cricket team, for example, if one team has better bowling lineup and they have opted to bowl in the first innings so expect the other team batsman to score fewer runs, try to take lower-order batsman from batting team as they are expected score bulk of the runs.
4. Return on Investment:
If you want to win consistently from the Fantasy apps then you should have a check on the return on the investment. Don't try to be too greedy in these Fantasy league as these can certainly curb down your money. Try to invest in small leagues, not on grand leagues.
5. Captain and Vice-captain Choice:
Choosing Captain and vice-captain is the most important factor as they give you 2x and 1.5x points. The combination of these two players makes your fantasy team your Dream team. The best way to pick a captain is by choosing all-rounder as they can give you points in both the department.
6. Select Consistent Batsman:
Players like Colin Munro, Rishabh Pant, Fakhar Zaman can give you huge points on when they are on song but if you look deep down to their Fantasy Points then you may seem to have a lot of inconsistency as out of the 5 matches that they would play they will score fantasy points in 1 or 2 matches. Players like Rohit, Kohli, Williamson, Root are consistent players they give you fantasy points in each and every match so try to pick players like these who are technically competent.
7. Choose Main Bowlers:
Bowlers are always underrated in the fantasy world as people are least interested to pick and invest on bowlers but they are the ones that make your team different from your opponent. If you are investing in small leagues then select main bowlers like Jasprit Bumrah, Trent Boult, etc, who bowls in the powerplay and take a cluster of wickets in the death.
8. Review News and Blogs:
There are many blogs present on the Internet which give you a detailed analysis of Fantasy Tips and Prediction. These News and updates give you an overall preview of the upcoming match like the playing XI, Team News, Pitch Report, etc.
About FSL11 Fantasy Sports App
FSL11 is a premium fantasy sports platform where you can play fantasy cricket games and Fantasy Cricket Leagues online. Just create your fantasy cricket team and compete with the online players. Download Fantasy Cricket App FSL11.