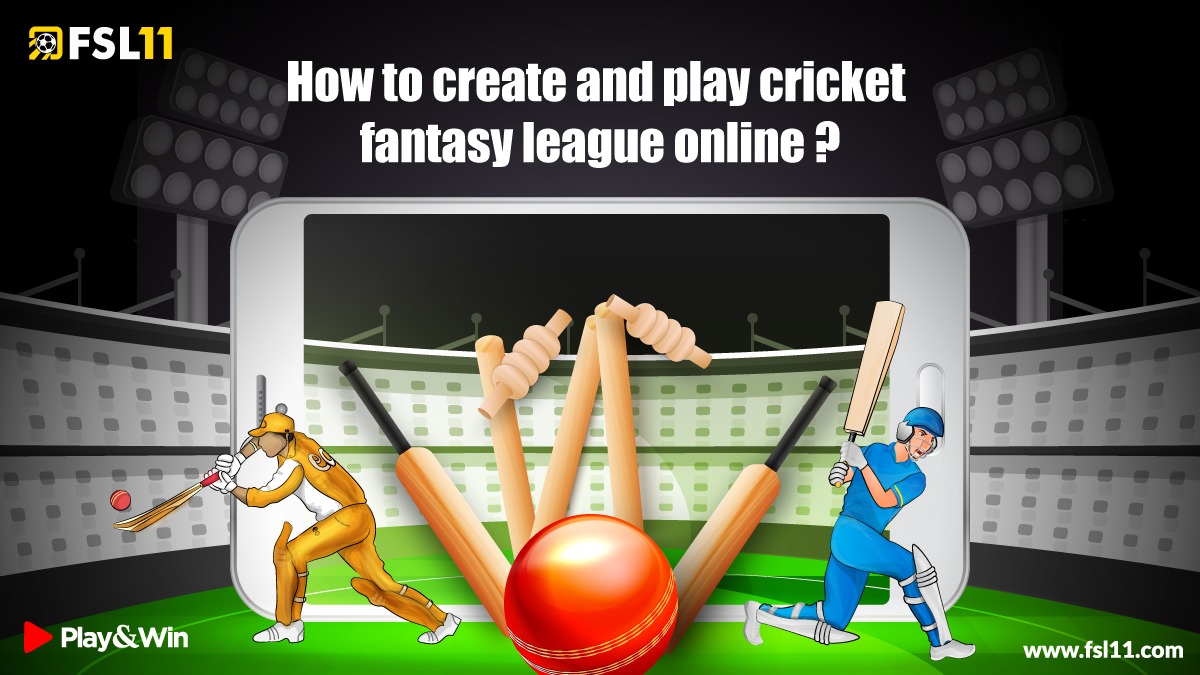 Fantasy Cricket is at the boom in India and every sports enthusiast enjoy liv matches together playing on different fantasy platforms. The theory of fantasy cricket is very straightforward. In fantasy cricket, you need to create a fantasy XI keeping in mind who are the top eleven players who can perform the best in real-life cricket. To play fantasy cricket you need to use your cricket skills and knowledge to make different playing XI combination.
FSL11 is India's coolest fantasy sports league platform. It's the best way to watch the games, create your teams, win real cash, and bring the action right into your living room.
FSL11 is not just about playing fantasy cricket and experiencing cricket, but this will get you to treasures of real cash benefits. You can join an existing contest or create your customized one and may challenge your friend one to one.
How to Play Fantasy Cricket?
All you need to do is register on www.fsl11.com and choose your favourite sports. Then,
Create Your Team for the match you wish to play. The fantasy XI team should be made based on your sporting skills and knowledge. For Cricket, you will be expected to pick 11 players and select a captain and a vice-captain among the chosen XI.
You can then join a practice contest or a cash contest. Please note that cash leagues on FSL11 usually require an entry fee, which can be paid using Credit Cards, Debit Cards, Net Banking or your e-wallet.
As soon as the live match starts, the members of your team will earn points based on their real-life performance on the ground. Once the match is over, the points tally and ranks are published on the website and application, along with the list of winners.
Play Fantasy Cricket Online now on FSL11 Application and enjoy winning cash daily. Download Fantasy Cricket App FSL11.
How to Win Fantasy Cricket?
Here are the few fantasy cricket tips which you should keep in your mind. If you want to increase the chances of winning fantasy cricket league:-
Use your cricketing skills and knowledge to make the best fantasy XI based on your analysis and research work. Analysis of the form of player is also a great factor to be considered.
You should consider Pitch Report and Weather Forecast. As it is deciding factor whether you should have more batsmen or bowlers in your fantasy XI.
An all-rounder is the best choice for captain or vice-captain as they get more chances of getting fantasy points. They can perform from all three aspects bat, bowl and field.
Try to choose bowlers who bowl in the death overs as they are likely to get more wickets which will help you get major points for your fantasy XI.
Don't select a player on favouritism. As it doesn't work in real life fantasy cricket world. You should give every player an equal chance of selection.
Following these tips, you can join any contest and Play-Cricket Fantasy League Online.
How to Create a Fantasy Cricket Team?
With FSL11, you can easily make your own fantasy cricket team and play the best of online fantasy cricket games. The following steps you need to follow to make a fantasy cricket team:-
Step 1: Select a Match
Select any forthcoming match from the list of ongoing and upcoming cricket match and click on the 'Create Team' button.
Select your fantasy XI based on your skills and knowledge within a budget of 100 credits.
Step 2: Create Your FSL11 Team
Select players for your FSL11 team from all 4 of the sections illustrated below:
WK – Wicket-keeper
BAT – Batsmen
AR – All-rounders
BOWL – Bowlers
Check player details and current statistics by clicking on the player image.
Sort players as per their teams, credits or points.
Step 3: Select your FSL11 team's Captain & Vice-Captain
After creating your FSL11 team, choose a Captain & Vice-Captain for the team.
Captain – Gets 2x points scored by him in the actual game
Vice-Captain – Gets 1.5x points scored by him in the actual game
Step 4: Creating Multiple Teams
You can create up to 6 teams per match and choose to join a contests with any of the teams created!
Click on 'CREATE TEAM *' for creating the next team.