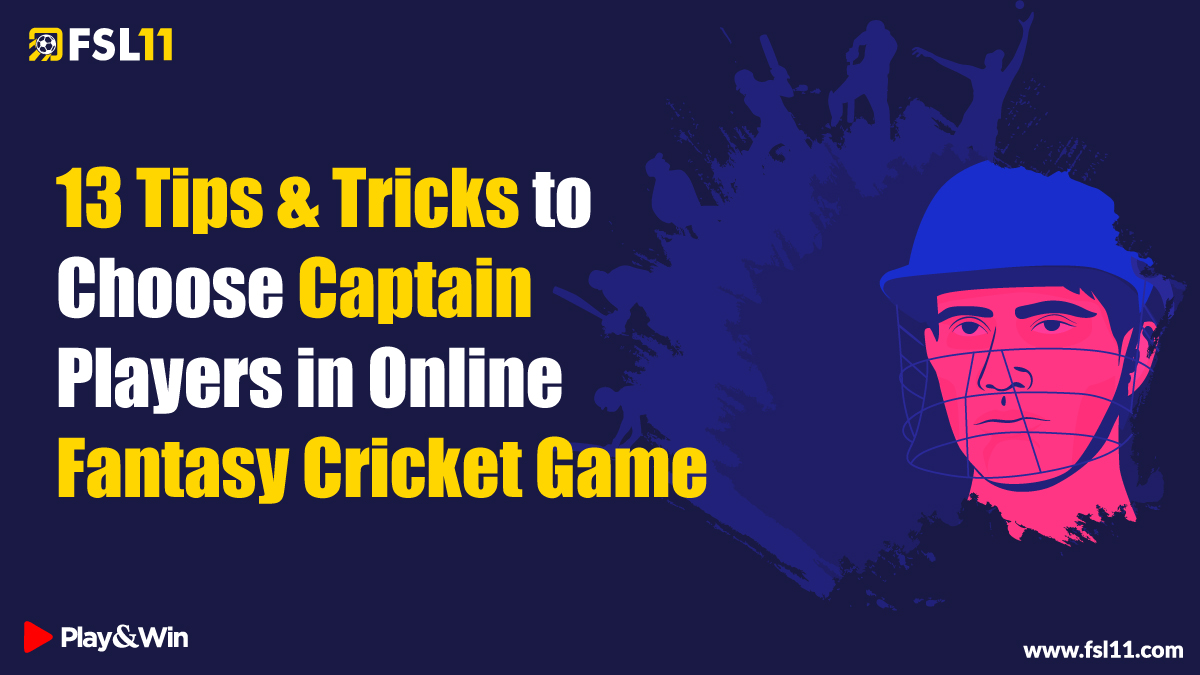 Fantasy Cricket game is one of the most played games in the country. As the world continues to evolve, fantasy cricket platforms are providing the goods in the fantasy cricket world. While there are a number of fantasy platforms in India, the basic idea is the same, you need to pick 11 players out of the 2 teams playing in the real-time, whichever user teams have the maximum points will win the match.
So if you need to win Fantasy Cricket Online then you need to choose the Fantasy cricket player very specifically as amongst all the combination, the user which will have the best playing X! Will lead the leaderboard.
So, here are 13 Fantasy Cricket Tips and Tricks to Choose Captain for your fantasy cricket team.
1. Track record
To choose any captain from the team that you have picked, you must know the track record, previous performance of the player. If that player has a good reputation but not able to deliver the performance then there is no sense of making him captain.
2. Pitch Report
Pitch Report plays a very crucial role in creating a Fantasy cricket match team. If the pitch bit on the slower side, then choose spinners or slower bowlers as a captain as they will give you the majority of the points.
3. Prefer consistent batsman
A batsman who can give you consistent points can are great choice for captain. A batsman like Virat Kohli, Kane Williamson, and Joe Root are technically correct and can bat at any situation, so they will give gain you decent points in every match.
4. Prefer Death Bowlers
Bowlers who their majority of the overs at the death or powerplay are a great choice for the captain as this is the time batsman will look to score runs against then as they can get the wickets of the team in a heap.
5. Prefer All-rounder
Generally, All-rounder's are the best picks for this Captain and Vice-captain in Fantasy Leagues. An all-rounder who gets enough chance to bat and also bowls his quota of overs is the best choice for C and Vc. He can make a mark in either of the departments and fetch you many points.
6. Make captain from a strong team:
Try to pick the captain from the team who are currently in good nick or dominating the series/tournament. Like in the match between India vs Zimbabwe, it's better to choose captain and vice-captain from the same team as there is highly unlikely chances of an of the weak team performing.
7. Trust Your Instincts.
You should also be watchful about a player who has done well on a certain venue or against a certain opponent. This player could be your trump card. This is where your gut feeling becomes so important in cricket fantasy.
8. Form vs Potential
identifying the player's potential and the opponents is also quite necessary before picking a captain. You cannot pick a spinner, who has picked three wickets in the previous game, on a pitch that has no turn on offer. Backing players who are out of form could also be a great ploy while making a captain.
9. Type of Fantasy Contest
The type of contest also plays a major role in choosing the captain for your team. Like if you are playing small leagues/head to head so its better to pick a safe player as captain or vice-captain but if you are playing for mega league that chooses a player for captain according to your gut.
10. Spinner vs Fast Bowler
Picking out from Spinner or fast bowler totally depends upon the pitch and the weather condition, if the pitch has some lateral movement in the air or off the pitch then bowlers like Chris Woakes, Bhuveneshwar Kumar will be a good choice for the captain while if the pitch is on the drier side then spinner like Yuzi Chahal or Rashid Khan will be a great choice.
11. The current form of players
Some Stormy opener batsmen like Rohit Sharma, Aaron Finch, Jason Roy, Chris Gayle, and Martin Guptill, etc. they can play big innings on their day. However, they don't perform consistently and can be a hit-or-miss type when they are not in form.
12. Read Blogs related to Fantasy cricket tips
If you are investing big money in the match then you must read the fantasy article related to cricket, they have all the news prediction, head to head news and the player performance report in their content. While reading out that you can make better decision of picking out the best player for captain
13. A player who performs well under pressure:
Star batsmen who cherish the pressure situation and bat in top-order are also the best options for captaincy. Like, Virat Kohli, Steve Smith, Joe Root, Babar Azam, and David Warner, who have the talent to anchor an innings and score plenty of runs in every match.
About FSL11 Fantasy Sports App
FSL11 is a premium fantasy sports platform where you can play fantasy cricket games and Fantasy Cricket Leagues online. Just create your fantasy cricket team and compete with the online players. Download Fantasy Cricket App FSL11.