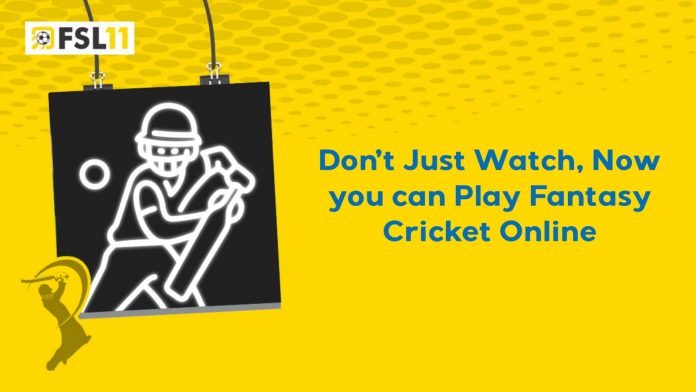 Yes, you read it right! The cricket matches we watch can be played online with our own imaginary team and earn points in each match. No wonder, more than half of the population of India is completely crazy about cricket, almost all keep their tasks aside and watch the match keenly. Now if someone tells you that you can play side by side and earn profits, you would say, is that even possible? At FSL11, you can play Fantasy Cricket Online. There is also a Fantasy Sports App wherein you can play with your mobile phones conveniently.
Now, if you are a pro cricket fan who likes to gather each and every information about players, teams, upcoming cricket leagues and team captains and vice captains, you can easily understand the fantasy cricket game and play your match on fantasy app.
The Fantasy Cricket League is played online and you should be aware about players' performances before choosing them in your team as you will earn your points based on their performance. It is all about making the right decisions before the match starts.
Indian Fantasy Cricket is also gaining popularity as it gives you opportunity to fine tune your cricket predictions and you must believe that this is not just a game, it's a platform to showcase your judgment quotient. Once you start understanding the game, its rules and how to play effectively, you can increase your power of imagination and prediction which might help you in earning money by putting your stakes carefully and confidently.
You must possess tact on forming a team of eleven best players in a proper order to win a good number of points. Fantasy cricket does not ask you to spend more, it just requires the right talent in predicting a team that will outperform in the match.
There are certain points that should be considered before choosing a team:
Just don't choose a player because s/he performed well in last World Cup, instead go check his latest performance and decide accordingly.
Consider the pitch, if a match is going to be held at a venue which supports fast bowlers and spinners like Sabina Park, Jamaica you must choose such bowlers in your team.
Always choose players that are playing and choose the captain and vice captain wisely as they hold 2X points and 1.5X points respectively.
At FSL11 you can edit your teams until the match starts.
You get ranks based on your team's performance so make sure you choose the best.
Try to match the player's past performances at particular stadium as it helps in knowing to which stadium the player is friendly and can play his/her best there.
Understand the Fantasy Point System well before forming a team.
The only thing you need to do is download the FSL11 app in your mobile phones, register yourself, create an account and start playing. Do visit our website www.fsl11.com and start playing this fun game to win exciting prizes based on your score.