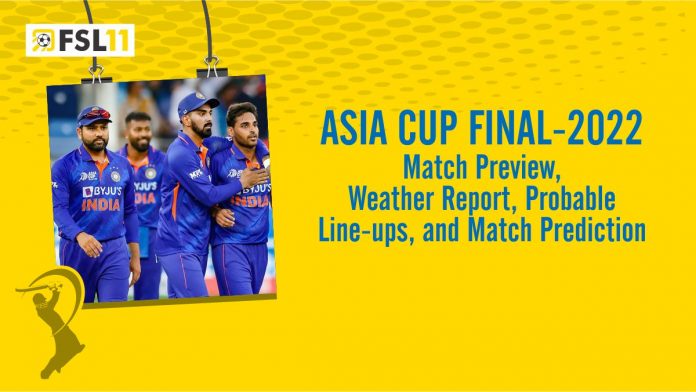 Match Preview:
The Indian fans are praying for Team India's best reach in the most important tournament, whose finals will be played on Sunday, at 7:30pm. The Final of the Super Four Asia Cup is being scheduled for September 11th, 2022, at a location called Dubai International Stadium.
Match Prediction:
The most critical situation India is currently facing and they are not familiar with their chances to knock horns in the finals of the Super Four Asia Cup is that this time India played a little bit lower than any of their opponent teams like Sri Lanka and Pakistan. Otherwise, India will almost certainly maintain their winning streak, having won the 13th and 14th editions of this tournament to become champions.
Match Pitch Report:
The way Sri Lanka has performed in the Super Four Asia Cup match from the very first game was a phenomenon, and this will help Sri Lanka play in the finals of this tournament. Similarly, Pakistan are also in the race, but they only require to win in the remaining matches to confirm their seat in the finals of the Asia Cup 2022. So, India is waiting to hear the news that their opponent team lost their game so that India can perform in the finals of the Asia Cup this Sunday.
Match Conclusion:
The conclusion of this is that India must need to keep patience, but most of the people couldn't think that India would reach the finals of the Super Four Asia Cup, which will be held on September 11th, 2022, at 7:30pm.
India Squad Rohit Sharma [c], KL Rahul, Arshdeep Singh, Ravichandran Ashwin, Avesh Khan, Yuzvendra Chahal, Deepak Hooda, Dinesh Karthik, Virat Kohli, Bhuvneshwar Kumar, Hardik Pandya, Rishabh Pant, Axar Patel, Ravi Bishnoi and Suryakumar Yadav.