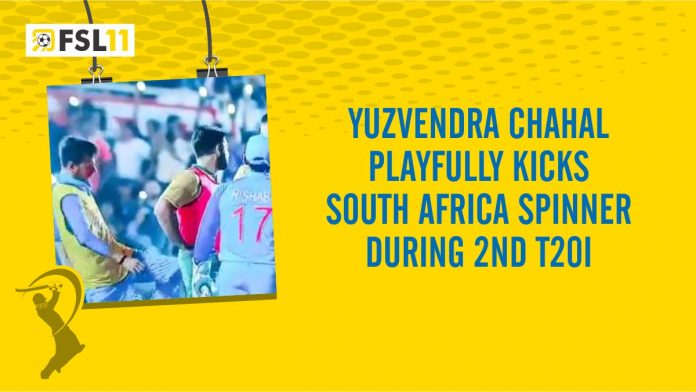 Yuzvendra Chahal, the speedy bowler of India, has given the spotlight on the friendship with South Africa's spinner, Tabraiz Shamsi. After the end of the second T20 match, Yuzvendra Chahal kicked to Tabraiz Shamsi from the back at the cricket ground, where they finished playing the second T20 match which was held between India and South Africa.
During the 2nd T20 match, Tabraiz Shamsi was not in the game to bat, as Quinton de Kock and Aiden Markram were playing for their side and Rishabh Pant was only standing beside the stumps. Similarly, Yuzvendra Chahal has not bowled in the entire T20 match. But he is likely waiting to get a single over to take such wickets in the 3rd t20 match on October 4th, 2022.
The video of Tabraiz Shamsi and Yuzvendra Chahal was shared on Twitter when they both enjoyed quality time after the end of the second T20 match on October 2nd, 2022. Yuzvendra Chahal kicked Tabraiz Shamsi in the back and Shamsi realized after a while that he had been kicked by Yuzvendra Chahal. Shamsi immediately put his hand around Chahal.
This year, Suryakumar Yadav, KL Rahul, Virat Kohli, and Dinesh Karthik played fabulous games, and so on, they are likely willing to create new spots in the competition of T20 World Cup 2022.