The star comedian and television personality, Bharti Singh, promotes the FSL11 (Fantasy Sports League). It's 100% trusted and easy to use Fantasy App. Why sit behind and complain about the players in the team when you can create your own team and play. Download today the Bharti Singh Cricket App and give a voice to your choice.
Let the game make you smile like Bharti Singh does and earn at the same time. Here are ten facts you need to know about the Bharti Singh Fantasy App, a platform promoted by Bharti Singh: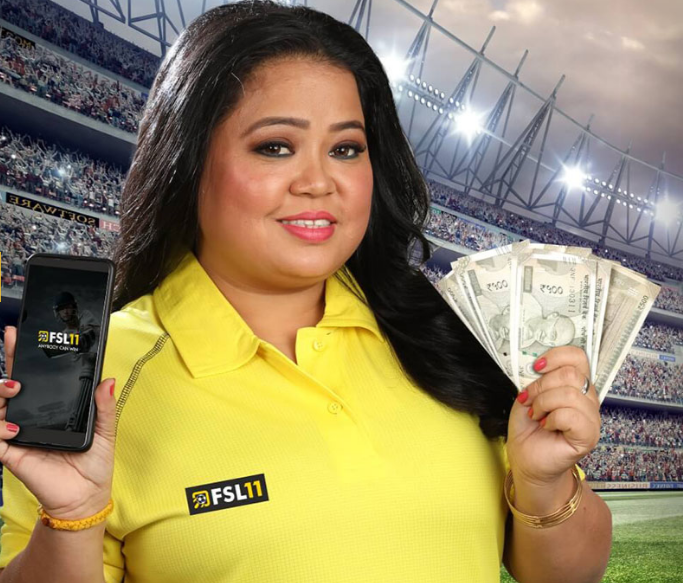 1. Offers for new users –
FSL11 runs various offers and bonuses. For the first time users, you get double the first deposit. It allows you to play a bigger bet for half the risk and earn double profit with a smaller amount.
2. Multiple teams –
This Fantasy Cricket App allows you to create multiple teams with players of your choice. So, now you need not sit back, wondering the right fix of a team that could have performed better. Pick your dream players, create teams, and challenge your knowledge. Enjoy while you watch the game!
3. Play big –
Do you know the game enough to take on bigger challenges? Well! This platform provides you with higher bidding contests, too, to give you a natural 'High' off life. Play head-to-head or Winner-Takes-All to challenge and prove your cricket analytics better than others.
4. Play all matches –
FSL11 connects you with all the matches across the globe and in India. What's better than challenging your skill and betting your knowledge on various matches, be it ODI, ICC, IPL, Twenty20, Ranji Trophy, and more. Let's not limit the fun. Let's get wild while we play and experience betting at all levels with all players.
5. Manage your team –
A lot happens between the toss and game. Although you can freeze your players pre-hand, FSL11 provides you with a bracket to change your players after the toss. We understand how the game changes after the toss as you need to decide on a Batsman or Bowler to put first. Hence, you can change the players before 'playing11' is announced.
6. We are your cricket-o-pedia –
Bharti Singh is known for her easy sense of humor and fantastic caricature skills, which excels her in the World of laughter. On the same note, playing a Fantasy Cricket bet is not a mere game of gambling. It is based on analytical skill, knowledge of cricket, and player's performance to win bigger returns. However, we understand that it is not easy to gather information from different platforms that publish various news. We on our blog provide you current updates on matches and cricket previews for upcoming games.
7. We, the mentors –
For the first time users who are finding it difficult to make strategies, create a team or invest money. Well! FSL11 website has it all, from tips to gaming hacks, key points of playing Fantasy cricket, to more. So, you need not worry. You are one browse away from the content that will teach you details about how to expertise in the game.
8. Non-chaotic deposits and returns –
We have segmented deposit, winning amount, and bonus for easy usage and to avoid any confusion. The deposit reflects money added to the wallet, Bonus reflects various amounts earned during contests that cannot be en-cashed but at the same time can be used in bidding. Winning is the amount earned that can be en-cased. Thus, the App is trying to simplify the process at every minor level for the player to only focus on enjoying the game.
9. Daily contest –
The word discount's impact has us all smile, just how Bharti Singh is known for spreading smiles. FSL11 platform offers you daily contests like bonus entry and kind where you can play a contest at a discounted price. So, now download Bharti Fantasy App.
10. Be the hero –
Queen of Comedy, Bharti Singh is known for her comedy skills nationwide. It's time for you to rule too and rank highest on the scoreboard. With frequent games and wins, you can top the scoreboard while earning extra margins. Be the champion of the Fantasy Cricket Game with your skill and knowledge and lead the rank-board.
Download FSL11 – The best fantasy cricket app now to bring in the real thrill of playing fantasy cricket online and win real cash every day with exciting bonus points. https://fsl11.com/download-fantasy-cricket-app