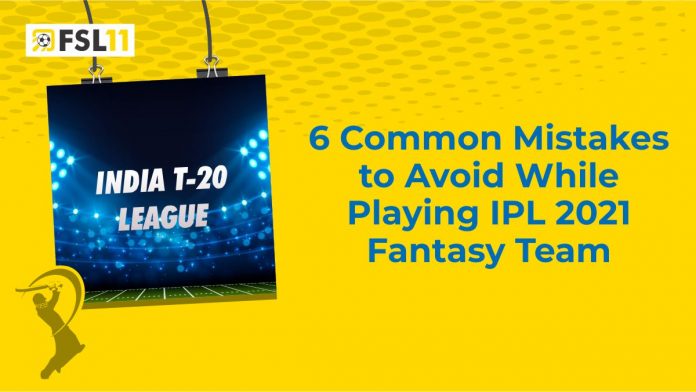 In the nation that fancies cricket, India, the T20 format has carved out a special place over a decade. As the Indian Premier League gains popularity, the demand for fantasy cricket is on the rise.
A fantasy cricket website allows people to create virtual teams of probable 11 players and test their cricket knowledge. Fantasy IPL award points are based on how players perform in the actual match. Fantasy premier league IPL offer a variety of matches, but IPL game app remains the most popular fantasy game in India.
However, a lot of players, whether beginners or experts, tend to make these six common mistakes while playing fantasy IPL 2021. We have just a couple of days until IPL 2021 second phase begins, so let's review these mistakes so we can field a successful IPL 2021 fantasy team for the event.
1. Taking emotions into account
It is all too easy to get caught up in the emotions surrounding the opponent's team, especially when we want to support the team of your city/ state or favourite player. Played by sentiments, we often forget that we have the liberty to choose players from both teams and make the best 11. So ideally, you should combine players from two teams playing on a given day and create a perfect team of competent players.
Despite our desire to see our favourite team win, fantasy cricket is a game played online in which points are earned based on a player's performance in real-time. Instead of focusing solely on one team in a virtual game, create a balanced mix that wins and scores you better points. You can still root for your favorite player or team during the tournament while watching the match.
2. Impulsive investing
In order to build a winning team, extensive research is necessary. While playing, users often make the mistake of selecting players based on their overall performance or history. There is, however, the possibility that players' form might change from match to match.
The player who performed well in the past may not perform the same way now. Furthermore, the player who underperformed may pick the match. One must analyze a player's performance in an ongoing or recent match in order to make the most accurate assessment.
3. Ignoring weather report and pitch condition
Weather conditions and pitches are not checked in advance. Weather conditions and pitch conditions greatly influence how a team and player perform. Spinners prefer a dry pitch and a sunny day. Despite this, swing bowlers are better in humid climates than spinners. It is, therefore, crucial to have this insight for a winning team, even though many fantasy players ignore it.
4. Taking no account of last-minute toss changes
The majority of users freeze their team before the toss. A small change in order can change the outcome of a game.
Almost every fantasy cricket app closes its contest one hour before the official match begins, except FSL11. In the 30 minutes before the beginning of the match, the toss takes place. This is the time when you can get a better understanding of the match. This feature directly increases your winning chances. Toss has a huge influence on the deciding team and players.
Participants can modify their teams of 11 players based on their bowling and batting performance after the toss result. Changing requirements allow you to select or remove players.
5. Point systems are important
You might be able to score more points if you follow the fantasy point system wisely. The FSL11 T20I IPL app download offers 2x point to captains and 1.5x points to vice-captains. You can achieve a higher point total by selecting the best captains and vice-captains. Also, check IPL fantasy league tips provided by FSL11 app. 
6. Making only one team
You can create multiple teams with FSL11, a fantasy IPL app. Multiple teams increase your chances of winning. Even if you lose in one contest, you can still win big in another. You can create up to six teams per match and choose which team to join a contest with.
The 14th season of the leading IPL T20 cricket tournament is resuming in 2 days in Dubai with a clash between Chennai Super Kings and Mumbai Indians. Now choose your player wisely, check fantasy IPL tips 2021, fantasy IPL prediction and win fantasy IPL today team. 
There will be 31 matches over 27 days, 13 in Dubai, 10 in Sharjah, and 8 in Abu Dhabi. The final of the IPL will take place in Dubai on 15th October. Download FSL11 and grab the first chance to win big and earn real money!
Download FSL11 – The best fantasy cricket app now to bring in the real thrill of playing fantasy cricket online and win real cash every day with exciting bonus points. https://www.fsl11.com/download-fantasy-cricket-app
Image Credits to Owners