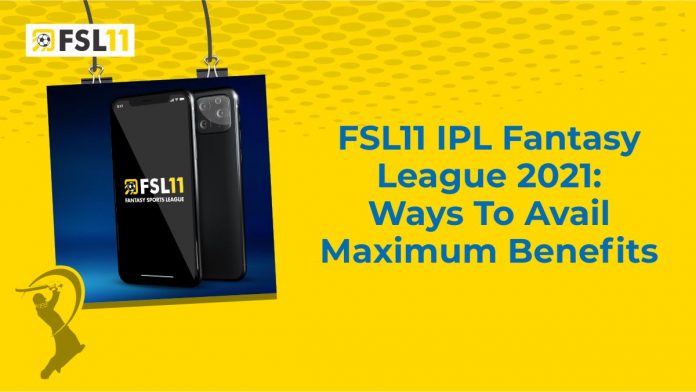 Did you miss out on playing the Fantasy Premier League IPL 14th edition online? Now is the perfect time to catch up on all the thrills you've missed.
The 14th season of the leading IPL T20 cricket tournament, which was postponed mid-tournament in May this year due to the outbreak of the corona, that breached the bio-bubble, is now set to resume in Dubai on the 19th of September with a clash between Chennai Super Kings and Mumbai Indians.
There will be 31 matches over 27 days, 13 in Dubai, 10 in Sharjah, and 8 in Abu Dhabi. The final of the IPL will take place in Dubai on 15th October.
In only a few days, the IPL begins, and cricket lovers around the world are getting excited for what is perhaps the biggest cricket festival of the year. A large part of the ongoing excitement can be attributed to the fantasy IPL 2021 best team because the Indian fantasy league allows fans a more intimate involvement in the games.
We at FSL11, have also planned our contest ahead of the tournament, trying to offer you nothing but the bests of deals. Prepare to buckle up (download) the FSL11 app on your phone so you can plan your teams' departure while learning about FSL11 IPL fantasy contests, offers, bonuses, and more.
Here are 8 ways to avail maximum benefits from FSL11:
1. First Deposit Bonus –
Make use of the FSL11 IPL game App and you will be able to obtain a 100% bonus. The first and foremost benefit of downloading the fantasy IPL App is that your deposit gets double. With a 100% bonus on the Fantasy IPL, you are able to gain double profits with a minimum deposit. 
2. Leaderboard Ranking –
Daily contests not only increase your ranking on the board but also increase your chances of winning. If you participated in more than one team in a multi-entry match, both Team Fantasy Points will be taken into account in the leaderboard.
3. Referral Bonus –
Why play alone when you can challenge your friend in the field of Cricket? Refer the App to your friend and You will get Rs.50 cash bonus if your referral friend registers on the application. What's more? Well! Your friend will also get Rs.50 cash bonus too for using your referral code. Now, follow the fantasy IPL prediction and create IPL 2021 fantasy team.
4. Participate in the daily contest –
FSL11 announces different contests and offers every day. You can level up your rank and stay on top of the scoreboard by playing the IPL Fantasy Cricket App daily. Winning the scoreboard by referring to fantasy IPL tips 2021 and playing the IPL Fantasy Cricket daily. Winning the scoreboard not only ensures higher profits but also keeps your excitement level high as you challenge yourself daily while practicing and testing your cricket skills.
Choose from among the best – H2H, Winner takes all, double or nothing, last man standing and more and create fantasy ipl today team
5. Gadget League –
Join Gadget League and stand a chance to win a variety of gadgets such as JBL speakers, Echo Dots, and more. There are going to be more exciting and trendy gadgets in the upcoming gadget league, so join FSL11 today, and stay updated with contests.
6. Mega Contest – 
IPL fantasy game announces various mega contests with a small entry fee, where you can earn up to 1 lakh. Celebrate the mega win with entry as low as Rs.10.
7. Deposit schemes available –
IPL 2021 fantasy league also announces huge cashback on various deposits. Get the highest profit with hassle-free deposits that make you happy.
8. Platform fees –
FSL11 offers low Commission fees than any other fantasy apps. For IPL fantasy games, FSL11 brings a special offer on the private contest fee – 1%. While Head-to-head (H2H) is at 5% platform fee up to Rs. 500 and 2.5% above 500.
9. Private contests –
A private contest is where you can challenge your friends, family or people of your choice. The benefits o the same is that money rotates within the known circle. Also, FSL11 offers the lowest platform fee in the private contest! So, it's a win-win.
10. Cashback leagues –
Nowhere but on FSL11 you get 20-30%, cashback leagues. So, now don't just deposit and win. But also, deposit and earn cashback which is as good as winning money.
11. Free entry –
FSL11 gives discounts and free entry in the HOT contest. With over 500+ daily contests, endless offers and bonus amounts, join FSL11 and avail benefit of daily offers, free entry and discounts.
FSL11, a Fantasy Gaming App with amazing features to improve your gaming experience, not only provides an opportunity to play various tournaments, domestic and international but also provides cricket news updates, players statistics and more.
But what's more fascinating is, in FSL11 with a small deposit you can earn big. It also offers instant Paytm withdrawal. Download FSL11 and avail maximum benefits!
Download FSL11 – The best fantasy cricket app now to bring in the real thrill of playing fantasy cricket online and win real cash every day with exciting bonus points. https://fsl11.com/download-fantasy-cricket-app
Image Credits to Owners