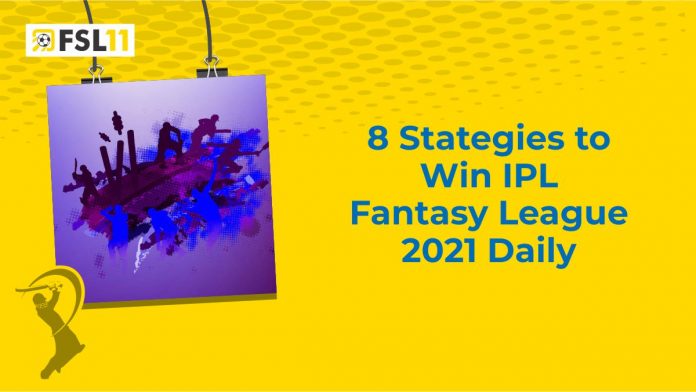 Couldn't play the 14th edition of the IPL Fantasy league online? 
Don't worry! By participating in IPL fantasy league 2021 second phase, you will be able to reclaim lost opportunities. Get geared up (download the FSL11 app) and plan the departure of the teams.
The 14th season of the leading Twenty20 cricket competition, which was postponed in May due to the outbreak of pandemic in India, will resume in Dubai on the 19th of September with a match between Chennai Super Kings and Mumbai Indians.
Over the course of 27 days, there will be 31 matches, 13 in Dubai, 10 in Sharjah and 8 in Abu Dhabi. Dubai will host the IPL final on 15th October.
There are only a few days until IPL, and cricket fans around the world are getting excited for what is perhaps the biggest cricket festival of the year. It is time for you to download FSL11 and enjoy the joining bonus, catch up on IPL 2021 live updates, IPL 2021 predictions and IPL fantasy cricket tips and tricks! FSL11 with over 500+ contests gives you the opportunity to not just earn money, but gadgets and other prizes too.
Do not let luck determine your success in this game. Their chances of winning depend on their analytical skills as well as their cricket knowledge.
There are certain things you need to keep in mind when creating your fantasy IPL team and formulating strategies for IPL match today. With these eight easy strategies, you can make money in the IPL Fantasy Cricket daily: 
1. Check the player performance and latest updates:
Every gamer makes the mistake of selecting players based on their popularity. Players' present form and game format should not be overlooked. You need to evaluate the player's recent performance in games played.
A player's recent achievements and forms are more important than his career history. The latest injury news about players can also be very helpful in picking the right starting eleven. To win an IPL fantasy cricket daily, it is important to indeed keep an eye on their private life, performance in recent tournaments. This gives an idea about their behaviour and how they might perform. A distracting situation in the player's personal life might also have an impact on the game.
2. Analyze the weather, pitch & venue:
96% of IPL win app, FSL11 winners will tell you that they win every day because they study the pitch and weather before planning the team. This helps them analyze which player has a game in their favour. When it is an afternoon game on a dry and slow pitch, include more spinners in your squad than swing bowlers. 
Spinners can make the most of UAE's flat tracks. In fact, the pitches on all three grounds in UAE (Dubai International Stadium, Sheikh Zayed Cricket Stadium, Sharjah Cricket Stadium) are known for their slow pitch. As history states, spinners have had the edge over fast bowlers here.
Analyzing the venue is equally important. Players may perform better on a certain pitch while others may fail to perform on a given pitch or in a short format every time. Example Chennai's stadium is beneficial for Dhoni as he practices there.
3. Power players and Captains:
At least one player from each category must be selected. To maximize your points, you should select all-rounders who bat in the top four. It is the same with wicketkeepers, who are also known for their batting abilities and can score both through batting and wicketkeeping. It is always better to choose a combination player.
Choosing a good captain and vice-captain is one of the most important fantasy cricket league strategies. A captain of each fantasy XI receives 2x points while the deputy-captain receives 1.5x points. Pick your best two players as captain and deputy captain and no one will be able to defeat you.
4. Picking uncapped players:
Batsmen and bowlers who bowl in the middle overs are safe bets like Yuzvendra Chahal. You should aim to score at least 50 points with the uncapped player.
In a fantasy cricket game, there is one uncapped player per team. The term uncapped refers to a player who has never represented his country internationally. Although the uncapped players are not assigned a high value, they can be game-changers. So, pick the best player in IPL along with uncapped players.
5. Creating Multiple Teams:
Another great fantasy cricket tip is to set up multiple teams to maximize your chances of winning. You may win big in another contest with another team even if you lose one contest. Most fantasy cricket apps offer plenty of contests, so you can always create multiple teams and join various contests. Not only beginners, but experts use this tip too. Follow IPL live score 2021!
6. Toss Updates and changes:
This tip is crucial since your money is at stake. After the toss, you should compare your playing XI with the declared teams. Form a team based on the results of the toss. The playing 11 and pitch conditions can be seen, as well as the outcome of the toss. Based on changing requirements, you can select or remove players.
7. Establish a league among friends and family:
It may be a small contest. As a beginner, it is better to challenge a family member or friend rather than taking on bigger contests like head-to-heads. FSL11 offers such private challenges too.
8. Value for money:
You don't always have to take the most expensive players. Overseas players, all-rounders and wicketkeepers are very expensive. Hence it is advised to make the right mix of players. Mix uncapped and domestic players in the lineup, as they can give points and save your budget.
FSL11, a Fantasy Gaming App with amazing features to improve your gaming experience, not only provides with an opportunity to play various tournaments, domestic and international, but also provides cricket news updates, players statistics and more.
But what's more fascinating is, in FSL11 with a small deposit you can earn big. It also offers instant paytm withdrawal. 
Download FSL11 and lead the scoreboard!
Download FSL11 – The best fantasy cricket app now to bring in the real thrill of playing fantasy cricket online and win real cash every day with exciting bonus points. https://fsl11.com/download-fantasy-cricket-app
Image Credits to Owners