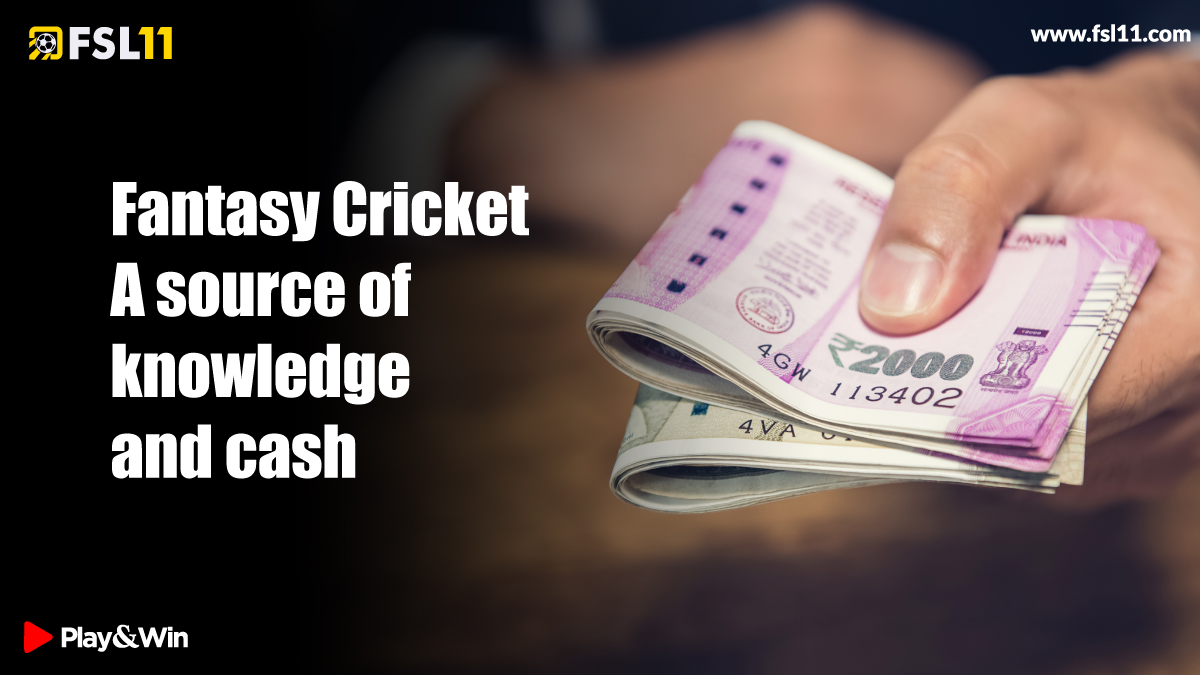 Playing fantasy cricket is a trend nowadays. There are users who earn thousands of rupees by just playing fantasy cricket. One just needs to have proper knowledge of cricket and keep an eye on the current performances of the players. Any cricket fanatic can easily earn big amount of money through doing something they absolutely love.
Fantasy cricket is a part of the fantasy sports genre. It is an online game in which a virtual team of real cricket players is created and points are scored depending on their real-life performance. As to win a tournament, players must attain maximum points and the highest rank on the leaderboard.
It is a type of online gaming where one can stay within the comforts of their lovely home yet swipe through the possibilities of earning money and enjoying cricket. And, the industry of fantasy cricket is completely legal and audited. Thus, one can play fantasy cricket without any worry.
Playing fantasy cricket requires just basic knowledge of cricket and analysis. It is also the reason why it is known as a skill-based game. The aim of a fantasy cricket match is to outscore the opposition by as large of a margin as possible.
Fantasy crickets can be played in three international forms: One Day International, Twenty20 and Test Cricket. The limited over matches are played in two formats, daily games, and rounds.
Playing fantasy can help one earn real cash. For that, one needs to select a match, first. It can be domestic, international, or premier leagues.
Creation of a good team us really pertinent. It is about picking all-rounder players who would perform all. Depending upon the type, duration, and location of the match, the performance of the players to vary. Deciding a better captain and vice-captain is also very important for winning more points. Keeping a comparative idea of the player's stats not just increases the points but also increases one's knowledge about cricket players.
Analysis of pitch before choosing the players is also important as their skills need to be profoundly utilized.
After, creating a team of 11, one must join a contest. Joining a small contest first can help one analyze the team's performance.
Once the match starts, the points add up automatically according to the player's live performance.
After the end of the match, the team's rank is displayed on the final scoreboard. According to the rankings, the winning amount is given. As per the points scored, real cash prizes are added up.
All fantasy cricket applications have a referral program. Some of them offer an award of Rs. 50 after joining the application. When one's companion joins the application through their referral interface, they receive free cash. This is the optimum way to earn cash without actually playing the game.
Fantasy cricket leagues are played by people who admire sports and betting. Analysis and gut feeling are two important things to win fantasy cricket leagues. Analysis of the statistics of the game is too significant. One can earn cash by predicting the outcome of the ongoing matches too.
Fantasy cricket apps are in demand because of the fun and excitement they provide as well as the money users earn by using their cricketing brain.
About FSL11 Fantasy Sports App
FSL11 is a premium fantasy sports platform where you can play fantasy cricket games and Fantasy Cricket Leagues online. Just create your fantasy cricket team and compete with the online players. Download Fantasy Cricket App FSL11.