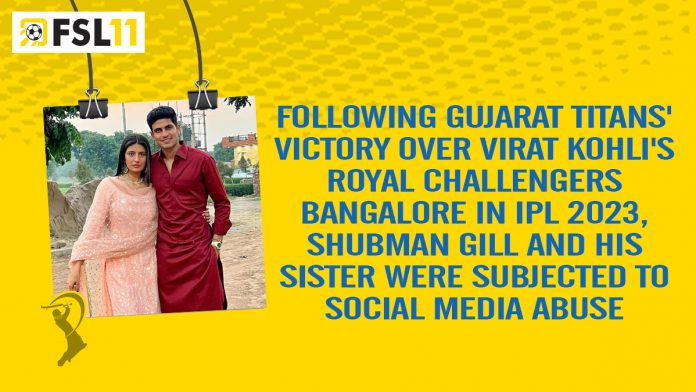 Shubman Gill, the opening batsman for the Gujarat Titans, continued his outstanding form in the Indian Premier League 2023 by scoring his second consecutive century on Sunday. His brilliant knock propelled the Titans to another victory in the tournament, but unfortunately, it also led to the exit of Virat Kohli's Royal Challengers Bangalore from the competition. 
While victories and defeats are part of the game, a certain section of fans reacted poorly to RCB's loss and resorted to abusing Gill on social media. Shockingly, even Gill's sister Shahneel became a target of some fans, particularly due to her Instagram post after the match.
Shahneel shared her joy on Instagram, writing, "What a wholesome day," along with a few pictures from the game. Unfortunately, numerous fans left hateful comments on her post, directed towards both Shahneel and Shubman.
Witnessing the offensive remarks aimed at Gill and his sister, many supporters took to Twitter to condemn those responsible for the abuse.
https://twitter.com/CaughtAtGully/status/1660365601532174336?ref_src=twsrc%5Etfw
https://twitter.com/iskarthi_/status/1660367386862837760?ref_src=twsrc%5Etfw
https://twitter.com/Pran__07/status/1660387417059106819?ref_src=twsrc%5Etfw
https://twitter.com/Pran__07/status/1660387417059106819?ref_src=twsrc%5Etfw