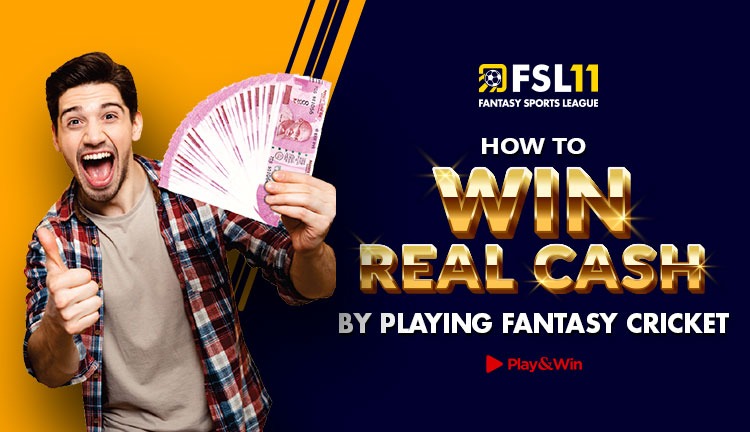 Welcome to My FSL11 Fantasy Sports Blog. Here you will get all the daily fantasy cricket-related news and prediction. Play Fantasy Cricket and win real cash. Download and start earning now!
Fantasy Cricket is all about applying your cricketing skills and mind to earn money. You can make fantasy cricket team and win real cash as per the match and join the league as per your budget and investment. The points of the team are distributed according to the performance of the player in real time match. Once the match is ended, user with maximum points earns the cash reward. Here are some of the tips that you can choose to play fantasy cricket and win cash daily
1. Play Small League instead of Mega/Grand Leagues
These Fantasy Cricket platforms play with the mind of the user by marketing their league with headings like "Win 2 Crore in Ind vs NZ", " Join Ind vs NZ and Earn 5 Crore" etc. Every new user is attracted by these tagline and invest in the mega league without knowing the consequences. Out of Lakhs of players only 1 player gets this cash reward. Rest all the players keep losing their money in these grand leagues, and lose the mindset needed to pick a good team. If you are playing Fantasy cricket for money then always invest in small leagues where there is low risk and better return.
2. Choose your Captain and Vice Captain wisely
Choosing Captain and vice captain is the most important task to make a winning team as they hold almost 35% of your total points of the team. First of all take choose only those player who are playing on the match day. Secondly invest on only those players that are likely to play big innings like Virat Kohli, David Warner, Rohit Sharma etc. Mostly the captain are picked from the batting section as bowler need to take 2 or more wicket with good economy rate to get you decent point which is really hard to predict. If you are playing Fantasy cricket to earn money then choose captain from player that can do more than one task like keeper and all-rounder.
3. Pick your team after the Toss
Toss and Pitch plays a very crucial role in picking out your best XI Fantasy team. If a weaker team is batting first against a strong team then there are high chances that the team is going to get all out at very low score and opposite team will chase it quite comfortable. So in this scenario, you can pick top 4 players from the weak team and pick as many as bowlers from the strong team. Because most of the times, top two or three batsmen from the stronger team will do the job for you, and if you pick several batsmen from the weaker team.
About FSL11 Fantasy Sports App
FSL11 is a premium fantasy sports platform where you can play fantasy cricket games and Fantasy Cricket Leagues online. Just create your fantasy cricket team and compete with the online players. Download Fantasy Cricket App FSL11.