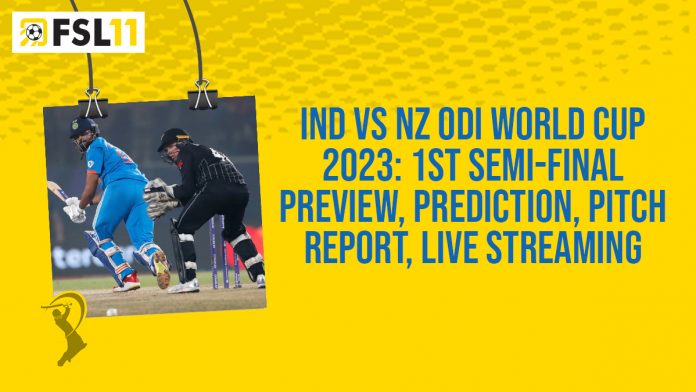 On Wednesday, October 15, 2023, in Mumbai, the first semi-final between India and New Zealand will take place. IST, the start of the match, is 2 pm. This bears a lot of similarities to the India vs. New Zealand World Cup semi-final from 2019. That match, the Kiwis defeated India.
The two teams are playing each other in this World Cup for the second time. In the league stage, India defeated New Zealand by four wickets in their previous encounter in Dharamsala. That being said, because this is a knockout semi-final, the stakes are much higher.
India has won their last nine games. They are currently the only undefeated team in this World Cup after defeating the Netherlands by a margin of 160 runs. But the Indian squad is trying to avoid suffering a third loss after losing the first two World Cup semi-finals. This team also has the majority of the players who participated in the 2019 semifinal.
Conversely, New Zealand comes into this match having defeated Sri Lanka in their last match to guarantee their place in the semi-finals. Things got a little complicated after their loss to Pakistan, but the Kiwis made sure to win the game handily and increase their NRR in the process. The Kiwis advanced to the semifinals as the fourth team after Pakistan's defeat by England in their most recent league match.
The World Cup match between India and New Zealand has always been an exciting affair. For any Indian fan, the 2019 semi-final defeat would always be fresh in their minds. In light of this, the supporters are optimistic that India will succeed this time, particularly when playing at home. With India winning 59 matches and New Zealand winning 50, the two sides' head-to-head record in ODIs is fairly even.
In World Cups, nevertheless, the Kiwis are superior over India, particularly in the elimination stages. In World Cups, their head-to-head record is 5-4. The best players on both teams want to have an effect on the crucial game.
MATCH PITCH REPORT :
Wankhede has played host to four World Cup matches so far, and hitters have found it quite simple to score runs in this venue. Over 350 runs were scored by the first-batting teams in the first three games. Here, against England, South Africa came dangerously close to scoring 400 runs. Even Afghanistan nearly scored 300 runs here in the previous game. In this match, India amassed 357 runs, while Sri Lanka's hitters were bowled out for just 55 runs as they were unable to capitalise on the surface. For the past five ODI matches, the first innings score has averaged 323 runs at this location. If their team wins the toss, they may choose to bowl.
India :
Rohit Sharma (C), Shubman Gill, Virat Kohli, S Iyer, KL Rahul (wk), SA Yadav, RA Jadeja, M Shami, JJ Bumrah, KL Yadav, Mohammed Siraj
New Zealand : 
Devon Conway, Rachin Ravindra, Kane Williamson (C), DJ Mitchell, MS Chapman, Glenn Phillips, Tom Latham (wk), Mitchell Santner, Tim Southee, LH Ferguson, Trent Boult