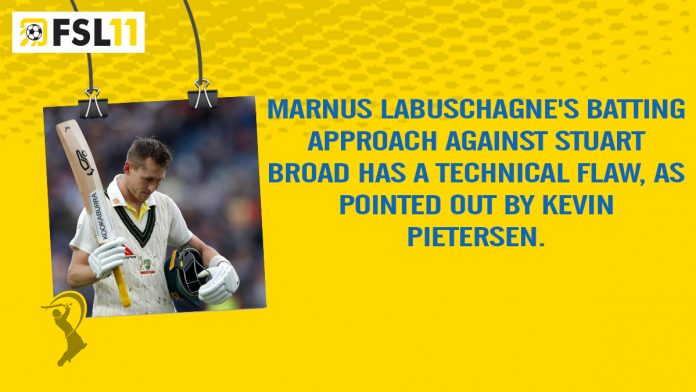 During the ongoing first Test of the Ashes 2023, Kevin Pietersen, a former England cricketer, pointed out an interesting pattern in Marnus Labuschagne's dismissals when facing Stuart Broad. Labuschagne, the top-ranked Test batter in the world, was dismissed in both innings in the same fashion, edging the ball to keeper Jonny Bairstow.
Broad had previously mentioned his strategy of using the wobble seam and outswinger to counter Labuschagne and Steve Smith, the formidable pair from Australia. So far, this plan has proven effective for England. In the first innings, Labuschagne was dismissed without scoring a run, and Broad managed to dismiss him again during Australia's chase on Day 4, adding to England's hopes going into the final day.
Addressing Labuschagne's technique against Broad, Kevin Pietersen suggested that Labuschagne should avoid attempting deliveries that are outside the off-stump. Pietersen expressed his views on Sky Sports, highlighting the wide delivery that led to Labuschagne's dismissal and emphasizing a potential technical flaw in his approach. According to Pietersen, Labuschagne should let those wide deliveries go and adjust his batting position to avoid triggering unnecessary movements across the stumps.