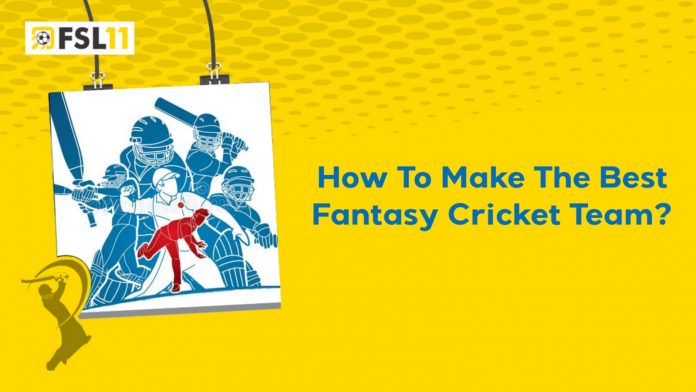 Cricket is treated as nothing less than a religion in India, and players are respected as idols. The sport's popularity has grown gradually over time and is now at that level where every child dreams to be a cricketer at some point in their life. The leagues like IPL have added cherry to the cake and taken the popularity to another level. Fantasy cricket is one of India's most notable byproducts of this craze, with more than 100 million users. It allows you to have your fantasy cricket team and participate in contests. Let us see how can we make the best fantasy cricket team – 
1- Check player stats –
To win in fantasy cricket, you have to find the best combination of players and choose the best players, and you have to keep an eye on players' current form. It's crucial to check players' complete stats before any selection. You may also choose some cricketing legends who may not be in the form currently but are likely to perform shortly if you are sure to continue with the same team. These details are available on the fantasy cricket site.
2- Check pitch and weather reports –
You should select players based on weather like fast winds to support the swing bowlers. A bright sunny day pitch always helps the batsmen, and the dew factor will always make the job difficult for the bowling side. The pitch reports provide us information about the nature of the pitch, whether it's good for pacers, spinners, or batsmen. You can easily get this information on a fantasy cricket app.
3- Choosing the captain and vice-captain –
You must choose your best players as captain and vice-captain because their points will be multiplied by 2x and 1.5x, and the points scored by them can increase your rank significantly and make you win bigger rewards. You may pick the top-performing batsman or bowler, or you may take some risks by picking any unknown all-rounder who can score big points in fantasy cricket games.
4- Select your players according to the format –
When you play fantasy cricket, you will observe that players' performance varies from one format to another. Some may be the best player of ODI but may face difficulties in test cricket, which is very common with most international players. You must choose players for your team according to the format and not select any big-name just because you think he can also perform in other formats.
5- Choose the best –
Sometimes you may feel about selecting your childhood cricketing icons in your team because you are emotionally connected to that player. Still, if his current performance is not up to the standards, try not to pick them and make the best team with the players out there. Sometimes, you may take risks by choosing a player of your choice that may give you big rewards.
Now, you have all the secrets of making the best teams. So, download the app today, create your dream team, and earn real cash